Maryland police officer, 3 others fall through ice on lake before dramatic rescue
A rookie Maryland police officer and three others had to be rescued Sunday after falling through ice on a lake at a park just outside the nation's capital in a dramatic incident captured on dashcam video.
The Prince George's County Police Department said the 911 call came in around 3:30 p.m. from Hyattsville, Md., just over the border from Washington D.C.
When two officers went onto the ice to help the victims caught in the freezing water, one of the cops fell through, police said.
"They were frantic, they were screaming, they were exhausted," Officer Timothy Tully told FOX5 DC. As Tully went onto the ice he noticed one of the men in particular was struggling in the water.
Tully, who is only two weeks on the job, was able to pull himself and one of the men out of the water before the Prince George's County Fire Department could be seen on video arriving at the scene to pull out the other two men.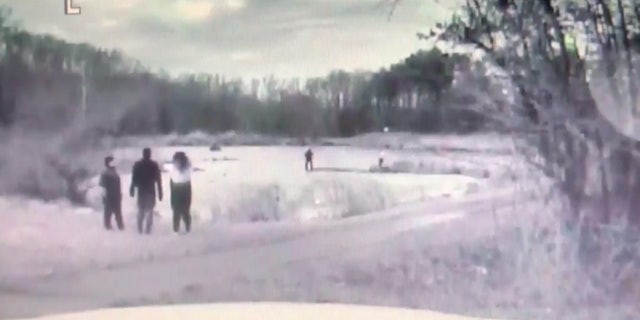 "Hitting the water and actually having that cold really takes your breath away," he said.
WATCH: OFFICER CRAWLS ACROSS PARTIALLY FROZEN POND TO RESCUE DOG
Police said Tully and two of the men who fell through the ice were taken to the hospital and treated for hypothermia. All have since been released from the hospital.
Tully's training officer, Rion Robinson, told FOX5 the incident was a "life or death situation."
"I was proud of him. He didn't hesitate, he was calm," Robinson said. "He never looked nervous and it seemed like he's been out here for a couple years now, so I was very proud about that."