4 'armed' suspects at large, one more dead after Maryland gun shop robbery, police say
NEWYou can now listen to Fox News articles!
Maryland cops are hunting four "armed and dangerous" gun thieves who ripped off a weapons shop early Thursday morning -- a botched burglary that left the fifth member of their crew dead.
Officers with the Montgomery County Police Department responded to the 5400 block of Randolph Rd. at around 2:35 a.m. after several people rammed a car into the United Gun Shop storefront, WJLA reported.
Police arrived on the scene shortly after and fired at the thieves, who soon fled in a second car.
FEDS: 81-YEAR-OLD BANK ROBBERY SUSPECT WANTED TO RETURN TO PRISON BECAUSE OF SMALL SOCIAL SECURITY PAYMENTS
Police Chief Marcus Jones told reporters hours later that police recovered the second vehicle, a getaway car, not far from the scene of the burglary. Inside, police found three guns stolen from the store and a dead man who's suspected to be a member of the crew.
"We did locate one suspect in the vehicle that is deceased from an apparent gunshot wound," said Jones, who didn't identify the dead man.
Jones added four others fled the site where the second car was parked and have not been located. He said they were captured on one resident's home surveillance camera and are believed to be "armed and dangerous."
While searching for the quartet, officers recovered a bag of guns found in the backyard of one of the neighborhood homes.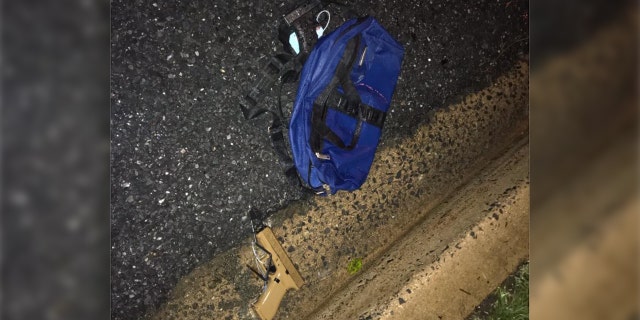 Police are not sure how many guns were taken from the store or how many of those guns remain in the possession of the suspects at large.
"We do believe they are still armed," Jones warned the public.
CLICK HERE TO GET THE FOX NEWS APP
Police returned to the gun store and determined the initial break-in was the result of a car being used as an "entry weapon" to gain access. A police cruiser was also struck by the second vehicle, which the men used to flee the store.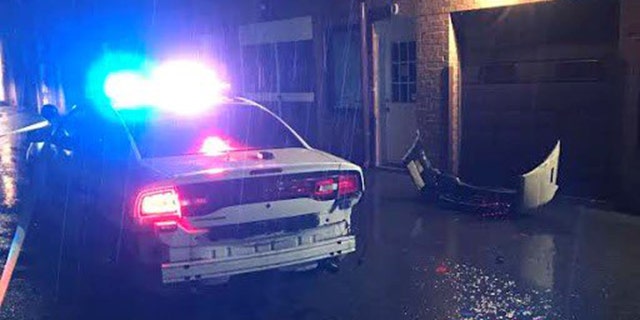 Police did not say if the dead man was struck by police gunfire.