Maryland governor vows to fight sanctuary movement amid rape case
Maryland's governor said Friday he cannot promise parents of children in Montgomery County schools, where a freshman high school student was allegedly raped by two older teenagers, that their children will be safe.
Republican Gov. Larry Hogan's remarks came as the assault last Thursday by two immigrants, at least one of whom is in the U.S.  illegally, has become a flashpoint for parents worried that the county's "sanctuary" status for illegal immigrants exposes their school children to danger.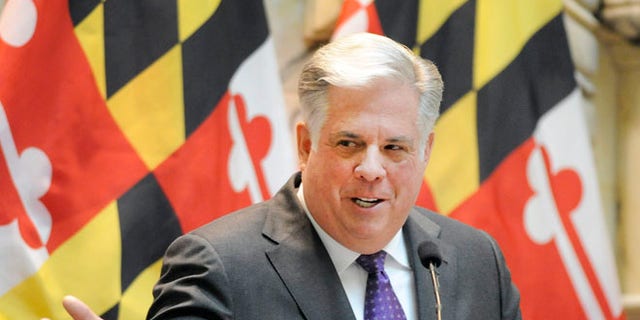 MS-13 GANG MEMBER DEPORTED 4 TIMES STABBED 2 WOMEN, ABUSED CHILD, COPS SAY
"I'm not sure I can give assurances that their children will be safe," he said.
What he did give assurances about, however, was that he would do three things: Get to bottom of the case, end the sanctuary status of Montgomery County and make the county's school district more accountable.
"That's a big part of the problem," Hogan said of the county's decision to not cooperate with federal authorities in their hunt for illegal immigrants.
DEPORTED KILLER NABBED SLIPPING BACK INTO UNITED STATES FROM MEXICO
Hogan's comments put further pressure on the superintendent of the Montgomery County school district who has accused some parents of displaying "racism and xenophobia" in their responses to the rape.
The two teenage boys, 18 and 17, are accused in the rape. One of the two, 18-year-old Henry Sanchez-Milian, is an undocumented immigrant.
The older suspect's attorney, David Moyse, confirmed that he plans to argue the sexual encounter was consensual, "not a rape in any sense."
Meantime, a leading U.S. senator is demanding to know why the accused teenager from Central America was allowed to enter and remain in the U.S. since crossing the border illegally months ago.
Sanchez, 18, of Guatemala, had been stopped by a Border Patrol agent in August 2016 in Rio Valley Grande, Texas, when he entered the country illegally from Mexico. Sanchez was ordered to appear before an immigration judge, but the hearing had not yet been scheduled.
It was not immediately clear if the other suspect, Jose O. Montano, 17, from El Salvador, was in the county illegally but county executive Ike Leggett told local press both had outstanding ICE orders.
"I have nothing to say," Montano's uncle, Orlando Montano, told Fox News Friday. "Speak with the police. You guys need to say the truth."
Both suspects were charged with first-degree rape and two counts of first-degree sexual offense. Charging documents allege that the pair dragged their female classmate into a boy's bathroom last Thursday at 9 a.m., where they allegedly raped and  sodomized her and forced her to perform oral sex.
Detectives from the Montgomery County Police Department Special Victims Investigations Division arrested Montano and Sanchez after school officials reported the incident. A forensic team recovered blood and male fluids from the bathroom, court records show.
ICE has since lodged an immigration detainer against Sanchez, so ICE can take custody of him when he is released, but it is unclear whether local law enforcement will comply.
Fox News' Christopher Wallace contributed to this story.