Marines identify 4 killed in helicopter crash in California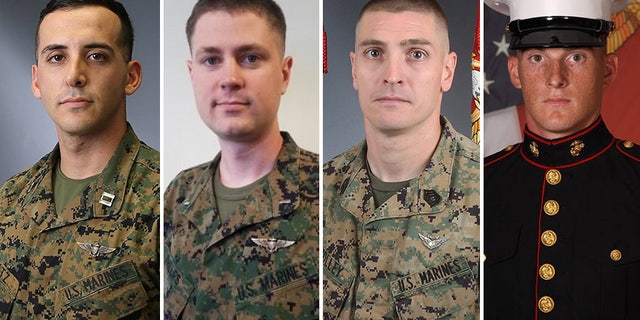 NEWYou can now listen to Fox News articles!
The U.S. Marine Corps on Thursday identified the four servicemen who were killed earlier this week in a helicopter crash near El Centro, California along the U.S.-Mexico border.
The four Marines from the 3rdMarine Aircraft Wing were killed when their CH-53E Super Stallion chopper went down during a training mission, military officials said.
The deceased were identified as Capt. Samuel A. Schultz, a 28-year-old from Pennsylvania, First Lt. Samuel D. Phillips, a 27-year-old from North Carolina, Gunnery Sgt. Derik R. Holley, a 33-year-old from Ohio, and Lance Cpl. Taylor J. Conrad, a 24-year-old from Louisiana, according to a news release.
4 MARINES KILLED IN HELICOPTER CRASH NEAR US-MEXICO BORDER
"The loss of our Marines weighs heavy on our hearts," Maj. Gen. Mark Wise, commanding general of 3rd MAW, said in the news release. "Our priority is to provide support for our families and HMH-465 during this critical time."
Schultz and Phillips were both pilots and joined the Marines in May 2012 and August 2013, respectively, officials said. Holley joined in November 2003 and had previously been deployed to Iraq twice. He and Conrad, who joined in May 2016, were both CH-53 helicopter crew chiefs.
All four were with the 3rd Marine Aircraft Wing's 465th squadron out of Miramar air station, officials said.
DISTURBING STRING OF CRASHES IN 2018 CONTINUES DEADLY TREND FOR US MILITARY
"The hardest part of being a Marine is the tragic loss of life of a fellow brother-in-arms," Col. Craig Leflore, commanding officer of Marine Aircraft Group 16, said. "My deepest sympathies go out to the families and friends of Capt. Samuel Shultz, 1st Lt. Samuel Phillips, Gunnery Sgt. Derik Holley, and Lance Cpl. Taylor Conrad."
"These 'Warhorse' Marines brought joy and laughter to so many around them," he continued. "They each served honorably, wore the uniform proudly and were a perfect example of what makes our Marine Corps great - its people! They will forever be in our hearts and minds."
The cause of the crash is being investigated, officials said.
Fox News' Lucas Tomlinson and The Associated Press contributed to this report.