Marine refueling plane crashes in Mississippi, at least five killed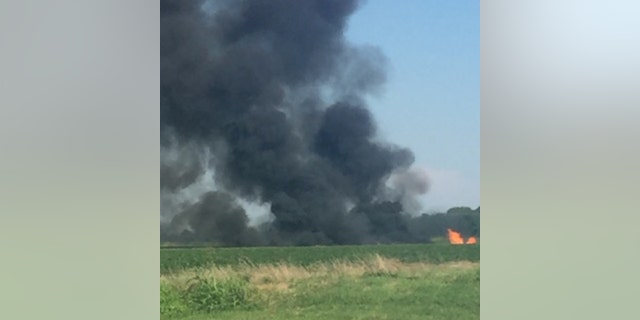 Authorities is Mississippi say at least five people were killed when a U.S. Marine Corps KC-130 refueling plane crashed Monday evening.
Leflore County Sheriff Ricky Banks told the Greenwood Commonwealth newspaper that nine people were supposed to be on board the plane, which crashed in a soybean field approximately 85 miles north of Jackson. He said a helicopter was searching for more remains.

Marine Corps spokeswoman Capt. Sarah Burns said in a statement that the aircraft "experienced a mishap" Monday evening.

Greenwood Fire Chief Marcus Banks, no relation to the sheriff, said the crash was reported about 4 p.m. local time and debris from the plane was scattered in a radius of about 5 miles. An intense fire fed by jet fuel hampered firefighters, Banks said, causing them to turn to unmanned devices in an attempt to control the flames.

"We were driven away by several high-intensity explosions," he said.
Aerial pictures taken by WLBT-TV showed the skeleton of the plane burning strongly, producing plumes of black smoke visible for miles across the flat landscape of the delta.

Austin Jones, who owns a neighboring farm, said the fire continued after sunset.

"It's burning worse now than it was early in the afternoon," said Jones. He said his son watched the plane go down while working on the farm and said it was smoking as it descended.

Officials did not have information on what caused the crash or where the flight originated.
Fox News' Lucas Tomlinson and the Associated Press contributed to this report.