Marine could be kicked out of Corps for flying white supremacist banner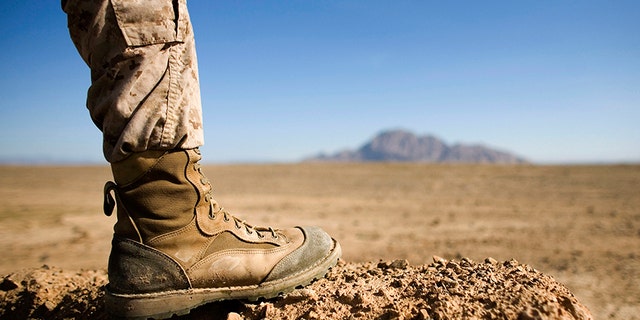 A Marine who was arrested in May for flying a white nationalist banner during a Confederate celebration could be kicked out of the Marine Corps.
Staff Sgt. Joseph Manning was arrested on May 20 in Graham, North Carolina, after hanging a banner with a white supremacist expression, the Marine Corps Times reported. Manning was charged with first degree trespass.
Manning is in the process of administration separation and is set to go before a board within the next month to determine if he will be separated from the Marine Corps., a Marine spokesperson told Fox News.
Manning, with the help of Marine Sgt. Michael Chesny, had displayed the banner on the side of a building, decked out with the letters "YWNRU," which reportedly means, "You Will Not Replace Us," during a rally by the "neo-Confederate" group Alamance County Taking Back Alamance County, according to Task and Purpose.
"You will not replace us" is a slogan reportedly associated with white nationalist group Identity Evropa, which helped to organize a white nationalist rally in Charlottesville, Virginia, last month.
"You will not replace us" was a chant that was cheered among the white nationalist rally-goers, according to The New York Times.
After the Charlottesville rally and the subsequent death of 32-year-old Heather Heyer, who was at the event to protest white supremacy, Gen. Robert B. Neller, Commandant of the Marine Corps, tweeted his condemnation for white nationalism, and saying there is "no place for racial hatred or extremism in @USMC."
An investigation by the Corps corroborated the allegations against Manning, who is now being "administratively separated" from the Corps. Manning's charge of first degree trespass means he could face up to 60 days in jail.
Manning, who joined the Corps in 2002, is a Purple Heart recipient who served in both Afghanistan and Iraq.
MARINE CHARGED AFTER NUDE PHOTO SHARING SCANDAL
Chesny, however, is still on active-duty, according to the Marine Corps Times. He reportedly received administrative punishment, and is stationed at the Marine Corps Air Station Cherry Point in North Carolina, where he works as an active explosive ordinance technician.
Both Manning and Chesny are scheduled to appear in court in Graham on Oct. 10.
A previously published version of this story, citing Marine Corps Times, erroneously reported Manning was expelled from the United States Marine Corps.