Many vacationers to ride out Gordon despite deadly 2017 hurricane season
ORANGE BEACH, Ala. – Calvin and Terry Valvo hunkered beneath an overhang along the beach, while watching the swells in the Gulf of Mexico grow.
"Both times we've come now [to Orange Beach, Ala.], we've been on the precipice of a couple hurricanes, so I guess this is a welcome home for us," husband Calvin Valvo told Fox News.
The couple's initial visit this year was in May – when the first named Atlantic storm of the season, Alberto, made landfall along the Gulf Coast.
This time around, it's Gordon forcing the couple inside.
Although forecasters say it likely won't strengthen beyond Category 1 hurricane status, state leaders are urging locals and tourists not to take Gordon lightly – after the harrowing 2017 hurricane season.
"There's an awful lot of folks who ought to be paying attention to this storm and making preparations," Louisiana Gov. John Bel Edwards said at a news conference.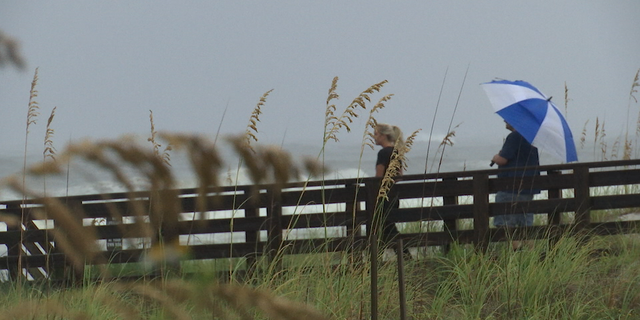 He and the governors of Alabama and Mississippi declared states of emergency as Gordon approached, allowing the mobilization of hundreds of National Guard members across the three states.
Alabama Gov. Kay Ivey tweeted Tuesday evening, "I encourage everyone across south AL to be weather aware & heed warnings from local authorities."
Despite warnings of storm surges, flash floods and wind gusts potentially reaching 70 miles per hour, many in Orange Beach appeared unfazed; in fact, some said they were excited to witness the weather phenomenon.
Juanita Cotner is a regular vacationer to the Gulf Coast but said she has never experienced a hurricane.
This September, Cotner brought her sister along. "I just decided we would make a trip and have an adventure... and we are going to have an adventure," Cotner chuckled.
The two plan on sitting on their balcony to watch the ocean. "We'll be satisfied," she smiled.
As the skies grew more ominous, Walmart Supercenters and Publix grocery stores saw steady streams of people Tuesday.
While returning to their cars, some vacationers told Fox News they were grabbing a few extra items, but weren't worried.
"This is our first hurricane, and we're just excited to just see what happens," Danielle Taylor said with a toddler clinging to her side.
Taylor said her family would make it a game night but hoped the double red flags, indicating life-threatening rip currents and surf conditions, will be taken down at the beach soon.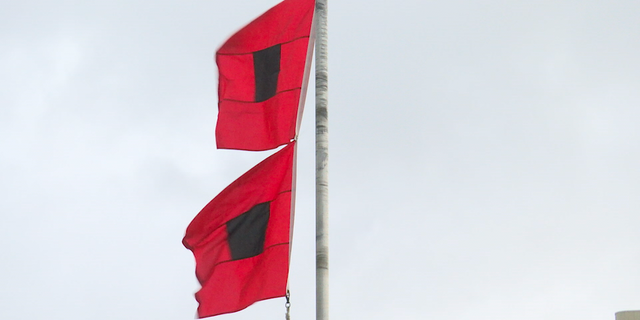 Even with alarms blaring on cell phones, signaling flood warnings or tornado watches, it was easy to find smiling faces in Orange Beach.
Like the Taylor family, the Valvos remained optimistic, unwaveringly positive about their new hometown.
"It's not frustrating at all, everywhere we go there's weather," Terry Valvo shrugged. "Whether it's tornadoes, or in [Las Vegas with] the heat, it's just weather."