Man's attempt to sail rowboat across Atlantic comes to abrupt end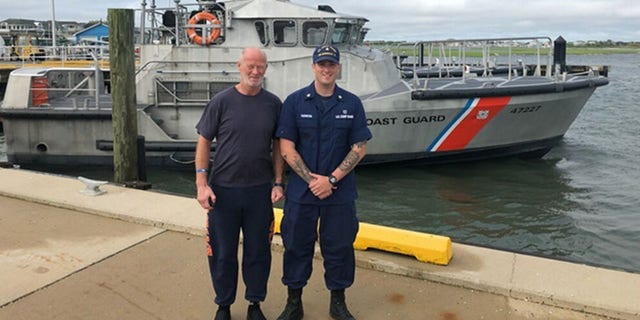 NEWYou can now listen to Fox News articles!
A Scottish man trying to sail across the Atlantic by himself in a custom-built rowboat made landfall just days into his voyage – but in a place thousands of miles away from his intended destination.
Duncan Hutchison, of Lochinver, had to be rescued by the U.S. Coast Guard on Monday after bad weather caused his boat to drift around 20 miles east of Barnegat Light along the New Jersey coastline. He had set sail from Jersey City last Thursday, hoping to travel more than 3,000 miles in 90 to 100 days and raise money for Water Aid – a charity that aims to deliver clean water to underdeveloped countries.
"It was great to use my skills as a surfman to navigate the heavy seas and wind, and my crew did an outstanding job making this a successful rescue," Petty Officer 2nd Class Eric Thornton said following the rescue, according to Fox 5 New York. "We highly recommended always checking the weather before departing on any ocean excursion because conditions can change instantly."
The 52-year-old, on his website, described being out in the ocean as his passion and said he built the boat himself and named it Sleipnir, after an 8-legged horse from Norse mythology "legendary for his strength, courage and speed."
"The Atlantic Row will involve rowing at least for 12 hours, each day, for 3 months as well as coping with the various hazards the North Atlantic Ocean can present such as– Hurricanes/ Shipping/ Debris/Icebergs," he wrote.
Hutchison hoped that currents in the Atlantic would set him on his way, but according to GPS data of his journey, he and the boat veered sharply back to land Saturday night along the Jersey Shore before he radioed the Coast Guard for help. The boat eventually ran ashore.
"I am doing this to prove that normal people can build a boat and row it across the Atlantic," Hutchison told the BBC before he had set out on the voyage. "That is the idea, to prove that normal people can do unusual things."
A Facebook page tracking his progress said Hutchison hopes to try again soon. However, he is not the only one from Scotland trying to sail this route to raise money for charity – Niall Iain Macdonald, of Stornoway, is currently on his third attempt. He set sail from Norfolk, Virginia, nearly two weeks ago.