Manhunts After Belgium's 9/11; NY Primary/Caucus Results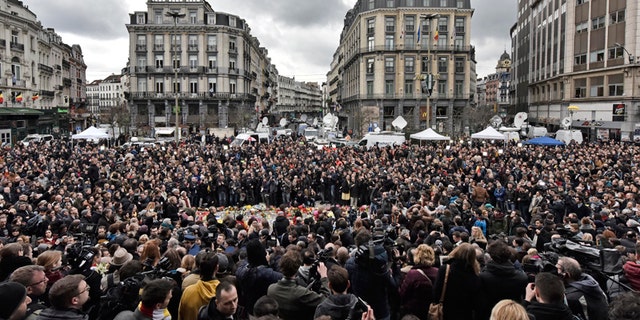 Belgium reeling today after Brussels bombings that left 34 dead yesterday in a coordinated terror attack. More than 200 were hurt including 9 Americans. Najim Laachraoui has been on the run since the attacks. His picture was sent around the world and there were reports this morning he'd been captured. That appears now not to be true. Belgian police did arrest a suspect, but reportedly not him.
Three of the men who carried out the attacks in the Brussels airport have been identified including Laachraoui. Brothers Khalid and Brahim Bakraoui were killed when they exploded suicide bombs.
Salah Abdelslam will be in court today. He's the prime suspect in the terror attacks on Paris that left more than 130 dead in November.
The Brussels Airport remains closed today, and American Airlines has cancelled all its flights to BRU until Friday at least.
The world displayed it's solidarity with the Belgium people including lighting up landmarks in the Belgium flag colors and flying flags at half-staff around the world.
The State Department took the extraordinary step of warning all Americans over travel to Europe. The alert warns that ISIS is planning attacks all over Europe and Americans should be aware of their surroundings and the possibility of attack.
The Dutch closed their embassy in Istanbul over terror fears.
President Obama coming under fire over his handling of the terror attacks. President Obama continued his schedule in his historic Cuba trip even attending a baseball game and doing the wave as the U.S. learned Americans were hurt in the attacks in Belgium.
Today President Obama is in Argentina meeting with the new government there.
1010EDT -- POTUS participates in a Bilateral Meeting with Pres Macri. Casa Rosada, Buenos Aires, Argentina. POOL TAPE
1200EDT -- POTUS participates in a Press Conference with Pres Macri. Casa Rosada, Buenos Aires, Argentina. HOST TV LIVE / POOL TAPE
1330EDT -- POTUS participates in a Tour and Wreath-laying Ceremony at Buenos Aires Metropolitan Cathedral. Buenos Aires, Argentina. POOL TAPE
Donald Trump won the winner-take-all state of Arizona in last night's primary. Hillary Clinton won on the Democratic side further increasing her delegate lead. In Utah, Ted Cruz won the Republican primary.. by more than 50%.. and taking all 50 delegates there. Bernie Sanders won Utah in the Democratic caucus.
In Idaho, Bernie Sanders won the Democratic caucus there. Last night, Sanders got 61 delegates to Clinton's 54.
1415EDT -- Hillary Clinton delivers a speech on counterterrorism. Stanford Univ, Stanford, CA. LIVE via LiveU
Jeb Bush is endorsing Ted Cruz today on the morning shows. Politico breaking the story overnight.
Ted Cruz coming under fire for comments he made in the wake of the terror attacks, suggesting Muslim areas in the United States needed to be monitored and patrolled. Sean Sullivan and Katie Zezima write in the Washington Post today:
The Republican and Democratic presidential candidates collided sharply Tuesday in the wake of the deadly terrorist attacks in Brussels, with GOP hopeful Ted Cruz calling on law enforcement to "patrol and secure Muslim neighborhoods" and his Democratic rivals sternly rebuking him.
The uproar highlighted the deepening rift between Republicans and Democrats on an issue that was poised to gain a fresh foothold in the campaign: the treatment of Muslim Americans amid concerns about terrorism.
Several live events we'll monitor for news today.
1130EDT -- Sen Cruz attends a Manhattan GOP Party & Women's National Republican Club event. New York, NY. LIVE via LiveU
1300EDT -- OH Gov Kasich holds a town hall meeting. Crowne Plaza Milwaukee West, Wauwatosa, WI. LIVE via LiveU
Secretary of State John Kerry is in Russia to discuss Syria and Ukraine as attacks send Europe reeling from terrorism.
The Washington Post writes about Congress' reaction to the Belgium attacks. Reporter Karoun Demirjian writes:
Congressional leaders said Tuesday that the bombings in Brussels underscore the need to accelerate the military campaign against terrorist groups and to boost airport security in the United States.
Blasts that struck a major international airport and a metro station frequented by European diplomats put Brussels on lockdown Tuesday, amid fears the attacks were in retaliation for the recent capture of Salah Abdeslam, the presumed mastermind of the November Paris attacks.
The Islamic State claimed responsibility for the bombings.
"Our nation stands in solidarity with the people of Belgium and we will renew our determination to prevent more senseless violence against the innocent," Senate Majority Leader Mitch McConnell (R-Ky.) said in a statement. "Defeating ISIL, al-Qaeda and its affiliates will require concerted action by the military, our intelligence community, and our international partners."
House Speaker Paul D. Ryan (R-Wis.) also called for international cooperation against terrorists and sought to play down worries that Washington could soon be attacked.
"We have reached out to the intelligence community and I have received some updates this morning and I have absolutely no reason to believe that there's a threat here," he told reporters.
There's a few live events on the Hill today for us to watch:
1000EDT -- House Minority Ldr Pelosi and Members of the House Democratic Caucus hold press event to mark the sixth anniv of the Affordable Care Act. LIVE via LiveU
1000EDT -- Sen Klobuchar holds a photo op with Supreme Court nominee Judge Merrick Garland. FNC TAPE
1100EDT -- Speaker Ryan delivers an address on the state of American politics. LIVE
For more news, follow me on Twitter: @ClintPHenderson