Man who lost wife, home in tornado is reunited with missing dog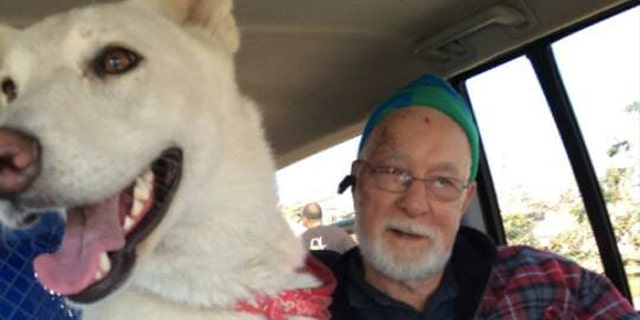 A man who lost his wife in the deadly tornadoes that struck Illinois last week received a lift Saturday after his missing dog was found safe.
Clem Schultz's dog Missy, a white German shepherd, disappeared during the tornado Thursday that killed Clem's wife, Geraldine, and destroyed the couple's Fairdale home.
On Saturday, an electric utility worker surveying debris spotted the dog in a field and alerted police, who then tracked down the family, NBC Chicago reports.
Tyler Rowan, the grandson of Clem Schultz, said the dog -- apparently still traumatized by the storm -- ran away from everyone for 2.5 miles until they were able to catch up with her.
Since then, Clem hasn't let go of the dog, Rowan told the station.
"We are all happy she is home!" read a post on a Facebook page set up in the search for the dog.
Another Facebook page -- Fairdale and Rochelle Illinois Pet Recovery – has also been set up to assist families whose pets are missing after the tornado.
Hundreds of volunteers descended on Fairdale and Rochelle Sunday to assist in recovery efforts.
Eight tornadoes roared across northern and central Illinois during Thursday's storms. The strongest hit Fairdale, where two people, including Geraldine Schultz, were killed. That tornado also injured 22 people and damaged or destroyed dozens of buildings. About 900 volunteers removed debris and helped victims search the debris for personal items that would help them rebuild their lives. In nearby Rochelle, nearly 700 volunteers helped in cleanup efforts.
The volunteers came from as far away as Missouri and Ohio. Along with helping residents sift through debris, they brought dogs to provide comfort.
Forecasters say the storm had winds of up to 200 mph, was a half-mile wide and was on the ground for nearly 29 miles.
The Associated Press contributed to this report.