Man seen falling into Yellowstone geyser presumed dead, officials say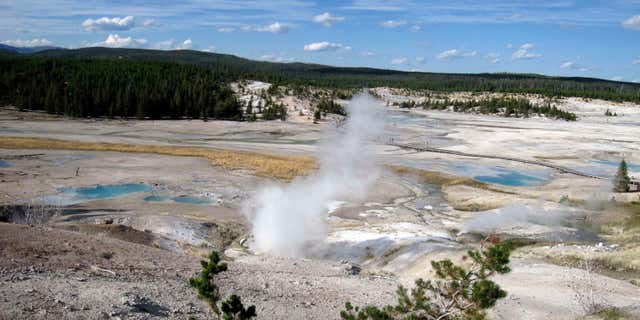 A man is presumed dead after falling into a hot spring at Yellowstone National Park Tuesday, park officials said.
Witnesses saw a man in his early 20s walk off the boardwalk in the Norris Geyser Basin area and fall into the thermal spring about 225 yards away. Rangers said the man probably died because he hasn't been located and searchers are being extra cautious because of the spring's dangerous thermal features.
The Norris Geyser Basin is the hottest and most dynamic thermal area in Yellowstone, which features springs that can reach temperatures up to 200 degrees Fahrenheit. The basin was closed soon after the incident, the Billings Gazette reported.
Tuesday's search comes on the heels of several other high-profile incidents at the park.
On Saturday, a 13-year-old boy was burned around his ankle and foot after his father, who had been carrying him, slipped in the park's Upper Geyser Basin hot spring.
In May, a Canadian film crew was accused of leaving an established boardwalk and stepping onto a geothermal feature where they snapped photos and took video of themselves.
Also last month, another Canadian man loaded a bison calf into his SUV because he thought it was cold. The calf later had to be euthanized because it could not be reunited with its herd.
In April, park officials warned people against approaching wildlife in the park after a woman was caught on video petting a bison.
More than four million people visited Yellowstone last year. The park expects even more this year as officials celebrate its 100-year anniversary.
The Associated Press contributed to this report.