Man relaxing in kiddie pool with family killed by out-of-control bus: reports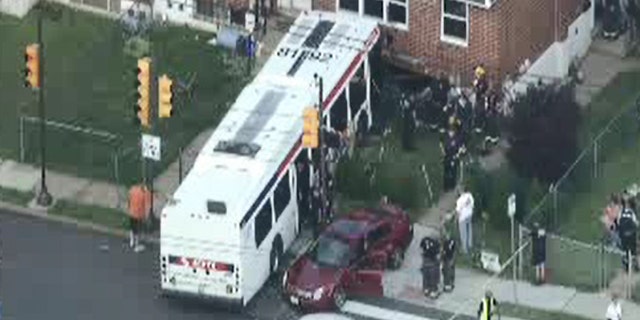 A Philadelphia man reportedly visiting family for his daughter's wedding was killed Thursday when an out-of-control public transit bus ran over the inflatable pool he was sitting in.
James Robert Derbyshire, 52, died at the scene after the SEPTA bus ran a red light at an intersection, plowed into two cars, jumped a curb and careened onto the front lawn of his son's house where Derbyshire and two others were sitting in a wading pool, the Philadelphia Inquirer reported.
Witnesses told FOX29 Philadelphia that the driver was slumped over the steering wheel with his head down moments before the crash.
The bus screeched to a halt after it smashed a hole 10 feet wide and 4 feet high into the home, according to the paper.
"It hit [Derbyshire] so hard, it knocked him through the wall," neighbor Karl Dollmann told WPVI-TV. "He had no pulse; I checked it. He had no pulse."
"There was no bringing him back," witness Michelle Woods told NBC Philadelphia.
"It hit [Derbyshire] so hard, it knocked him through the wall."
A 28-year-old man — believed to be Derbyshire's son — and a 20-year-old woman also sitting in the pool were reportedly rushed to a local hospital with serious injuries.
The 49-year-old bus driver and the drivers of the two vehicles he struck were taken to a hospital for treatment, the Inquirer reported. Several of the bus's 15 passengers also needed treatment for neck and back pain.
No charges have been filed as authorities continue to investigate the crash.