Man reaching for baseballs gets stuck between 2 buildings, is freed 3 hours later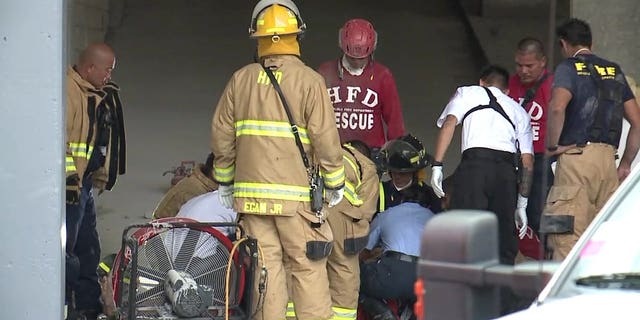 A man who fell into the space between two buildings in Honolulu on Friday while trying to retrieve lost baseballs with a pole was finally rescued after about three hours of effort by first responders.
The unidentified 55-year-old man, who had fallen about 12 to 15 feet before becoming stuck, was taken to a hospital in serious condition, Honolulu's KHON-TV reported.
The man reportedly had been bouncing a baseball on top of one of the buildings around 2 p.m. when it got away from him and fell into a tight space between that building and an adjacent one.
"Apparently, he got a couple of baseballs stuck inside the wall," Ray Rodrigues, a property manager for one of the buildings, told the station. "He was going to pick them up with a pole, and he fell inside."
Rescuers tried lowering a cable, but the man was unable to grab it, the Honolulu Star-Advertiser reported.
Then they spent hours trying to cut through a concrete wall of one of the buildings in a bid to free the man, who could be heard screaming, KHON reported.
Finally, around 5:30 p.m., the man was pulled out from a hole that firefighters had cut into one of the walls, the newspaper reported.
"My recommendation would be to put some kind of screen or protective area between the spaces between the two buildings," construction expert Lance Luke told KHON. "Now, you have to get both building owners to agree to that, but that would be safer than how it is now."
A city spokesman told the station that an inspector would be sent to look at the site next week.