Man pulls gun on Colorado deputies during traffic stop, dramatic body camera video shows
NEWYou can now listen to Fox News articles!
Colorado officials released video Monday showing the moment a man who was fatally shot by police opened his truck door and pointed a handgun at deputies during an August traffic stop.
The Douglas County Sheriff's Office said the incident happened Aug. 31, when a vehicle was pulled over on Highway 85 in Sedalia, located about 20 miles south of Denver.
Deputies were reportedly trying to figure out if a passenger had a restraining order against the driver of the vehicle. But the passenger, 61-year-old Paul Askins, was uncooperative, didn't provide his legal name or date of birth, and when asked to step out of the vehicle, pointed a pistol at deputies.
"This is how he engaged us," Douglas County Sheriff Tony Spurlock said at a news conference.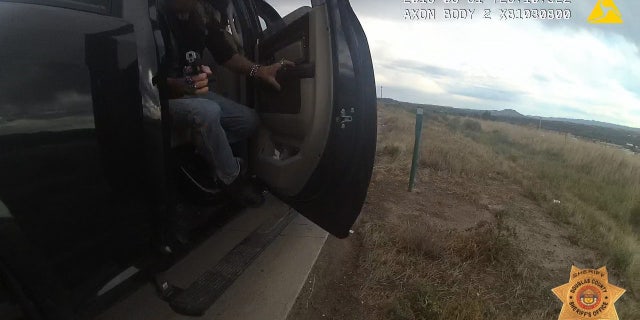 In the video, one of the officers can be seen quickly backing away while opening fire, then tumbling down an embankment.
All three officers shot Askins multiple times, fatally wounding him, according to Spurlock.
CALIFORNIA DEPUTY KILLED, ANOTHER WOUNDED AFTER SHOOTOUT WITH SUSPECT
At the time of the shooting, Askins had two active warrants out of El Paso County, Colorado -- one for 2nd degree burglary of a building and the other for Failure to Appear, according to the sheriff's office.
None of the deputies or other passengers in the vehicle were injured in the incident, FOX31 reported.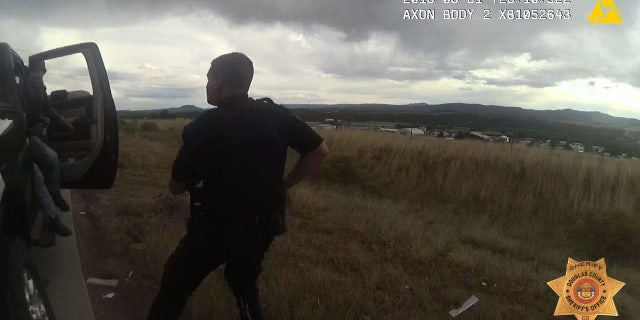 The sheriff's office did not release the names of the deputies, citing the ongoing investigation, but said one deputy has served with Douglas County for two years, another for eight years and the third for 16 years.