Man mistakenly texts Virginia officer offering to sell pot, gets arrested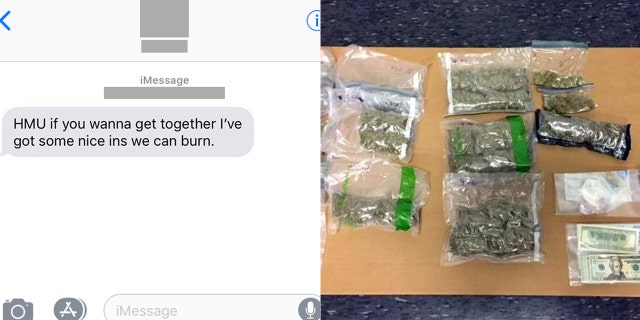 If you're selling pot it's probably not a good to accidentally send a text to a narcotics detective peddling your illegal wares.
The Fairfax County Police Department in Virginia said in a Facebook post on Monday that a detective received a text message offering to sell the officer marijuana.
"HMU (hit me up) if you wanna get together I've got some nice ins we can burn," the text said.
When the officer continued the conversation, a meeting with the mysterious texter was arranged. The man was eventually arrested and found in possession of more than a pound of marijuana, according to police.
Police said a search of the man's home led to the discovery of another pound of marijuana, a firearm, and an undisclosed amount of money.
$1.7M IN FENTANYL FROM CHINA DETECTED BY DRUG-SNIFFING DOG AT PHILADELPHIA PORT
"New phone, who dis? A person texted one of our officers offering to sell them marijuana, and obviously had the wrong number," police said.
The man, whose name was not released by police, has been charged with possession with intent to distribute.