Man intentionally crashes truck into FOX 4 studios in Dallas, starts 'ranting' before arrest, officials say
NEWYou can now listen to Fox News articles!
A man who was upset about an officer-involved shooting intentionally crashed his truck into the side of the studios for FOX 4 in Dallas early Wednesday before jumping out of the vehicle and started "ranting" before he was arrested, officials said.
In a Twitter post, FOX 4 said that after crashing the vehicle in the building, the man got out and "started ranting."
Dallas police investigated for several hours to make sure nothing was in a bag left outside. No injuries were reported as a result of the incident, which took place just before 7 a.m. ET.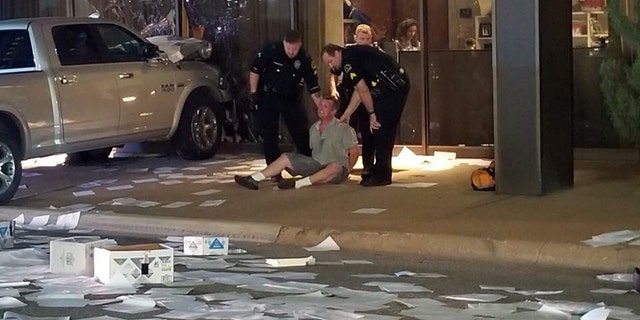 Dallas Police Public Information Officer Debra Webb said that officers made contact with the suspect and took the man into custody "without incident."
The suspect, identified as 34-year-old Michael Chadwick Fry, was described as being an "agitated mental state," will face charges for criminal mischief. Fry was previously arrested in 2016 in Denton County, located outside of Dallas. He was also arrested in Dallas County in 2011, according to FOX 4.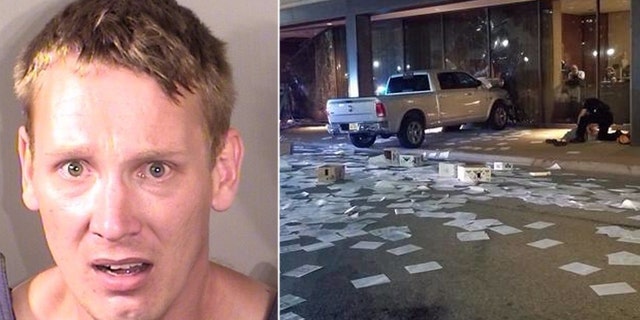 "It's just concerning to matter what the building is or who is outside," Webb said, responding to a question if the man was targeting a media organization. "We're really lucky today no one was injured."
Webb said that Fry appeared to be upset about an officer-involved shooting elsewhere and left numerous flyers that were "mostly rambling."
Photojournalists from the station filmed Fry placing numerous boxes next to the side of the building "filled with stacks of paper." The papers were then strewn along the sidewalk and adjacent to the building.
FOX4 reporter Brandon Todd said that Fry stood outside the building saying something about "high treason," ranted about a sheriff's department and then held up papers against windows. Webb had no further details about the man's motivation, other than other than they don't believe he was targeting the media.
Pictures posted by the television station showed boxes of paper strewn throughout the parking lot, in addition to broken windows and the man in handcuffs.
The station reported that most of the people inside have been evacuated, but few are continued to work to "keep the news on air from a secure location" until police cleared the scene.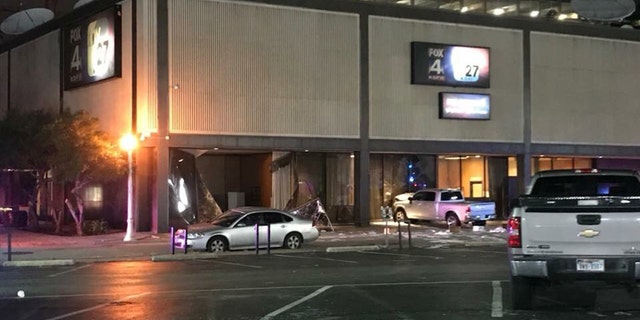 "Scary moment this morning when a man drove his truck into our building," reporter Shannon Murray said on Twitter. "We evacuated while the bomb squad is investigating."
The incident drew a large amount of emergency responders surrounding the building downtown as authorities investigated, interrupting service for Dallas Area Rapid Transit nearby.
The man was crying when he was taken into custody, Todd said. Authorities said he was taken to a hospital for examination and is now at the Dallas County jail.