Man inside Georgia bank who claimed to have bomb is dead, police say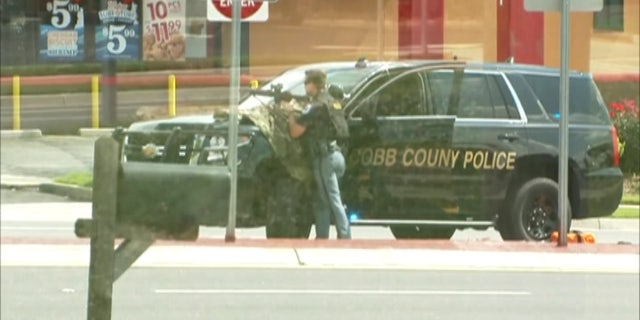 A man who called a news station in Georgia Friday claiming he had a bomb at a Wells Fargo bank has died after a standoff with police, according to Fox 5 Atlanta.
The man identified himself to Channel 2 Action News as Brian Easley.
Cobb County Police confirmed the suspect's death and said a bomb robot was searching the Marietta bank for any explosives.
Cobb County Police Chief Michael Register said it seems that a "member of the tactical team may have been responsible for the deceased." The Georgia Bureau of Investigation has opened an investigation into the death.
Cobb County Police said they have responded to the bank, where Easley, who characterized himself as a "homeless veteran," called Channel 2 and claimed to have a bomb inside the building, according to the news station. He also told the station his bomb could "take out the entire room."
Police smashed through the bank wall to free the two people trapped inside with Easley. Officers used a large military-type vehicle to break through the wall.
There were no reports of any other injuries.