Man charged in Anchorage couple's murder, sexual assault of 2-year-old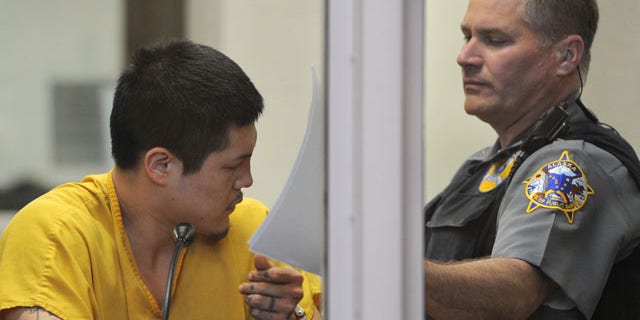 NEWYou can now listen to Fox News articles!
ANCHORAGE, Alaska – A 24-year-old man has been charged with beating an Alaska man and his wife to death and sexually assaulting their 2-year-old great-granddaughter.
Jerry Andrew Active was arrested Saturday night as he fled the east Anchorage homicide scene dressed only in boxer shorts and socks. He is charged with first and second-degree murder, sexual assault and burglary in the deaths of Touch Chea, 71, and his wife, Sorn Sreap, 73. Police said Sreap and the toddler were raped.
Police Sgt. Slawomir Markiewicz said Sunday that nothing has indicated the victims were connected to the suspect before they died.
"It doesn't appear that he knew them," he said. "It looks like a totally random act."
Both Chea and Sreap suffered significant blunt force object injuries. Department spokeswoman Anita Shell said on-scene investigators were affected by the brutality and the ages of the victims.
"They said this was the worst thing they had ever seen in their lives, and these are seasoned detectives," Shell said.
The victims were part of an extended family that lived in a ground-floor, east Anchorage apartment with their granddaughter and her husband, who are the parents of the toddler and her 4-year-old brother. The younger couple's 90-year-old great-grandmother also lives in the apartment and was at home during the incident.
Police said the younger couple, who are in their 20s, went to a movie Saturday night with their son and left the 2-year-old in the care of Chea and Sreap.
The parents of the child and their son returned shortly before 8 p.m. and found the door locked from the inside.
They told police they forced their way in through a window and discovered the bodies of Chea and Sreap.
A man in his 20s, they said, was naked in a bedroom with their daughter.
The woman called 911and police dispatchers heard screaming over the phone. The woman reported a man had broken into her home and killed her grandmother, Sreap. The woman described the man as naked with several tattoos.
The woman, who is pregnant, and her husband tried to keep the suspect from leaving and a struggle began, Markiewicz said. The suspect, by then wearing boxer shorts, was able to get away after a few minutes of fighting, Markiewicz said.
Officers found Active about a block away.
"He did offer some resistance but he was arrested," Markiewicz said.
The suspect apparently entered the apartment through a window, Markiewicz said.
Active refused to give his name and he was not identified until Sunday. He was arraigned at the Anchorage Jail.
Markiewicz said the case is unusual.
"It's certainly very rare to see this kind of violence -- a complete stranger, sexually assaulting and murdering someone," he said.
The bodies of Sreap and Chea were taken to the state medical examiner's office for autopsies.
Names of the toddler and her parents were withheld.