Man arrested in shooting death of Denver police officer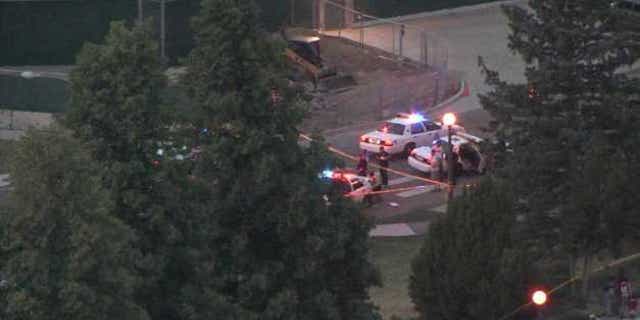 NEWYou can now listen to Fox News articles!
Denver police arrested a man in connection with the shooting death of a police officer and single mother who was killed Sunday while trying to break up a fight at a park where hundreds were gathered for a jazz concert.
Denver Police Chief Robert White identified the officer during a news conference Monday as 32-year-old Celena Hollis.
Authorities said a man has been arrested and charged with gun possession, and faces a first-degree murder charge, though authorities declined to name the suspect. White says a weapon has been recovered, but investigators don't know if it was the one that fired the fatal shot.
The park remains closed while police search for more evidence. At least three shots were fired Sunday shortly after a jazz band finished playing on a lakeside stage. The shots sent waves of people running through park grounds. At least 1,000 people were at the City Park Jazz concert, the fourth of 10 shows scheduled for this summer in the annual series.
Fox 31 reported that the officer had been on the force for seven years.
Denver Mayor Michael Hancock told reporters late Sunday that he personally knew the officer, according to the station.
"She was a very dedicated officer and a tremendous leader," Hancock reportedly said. "This is a great loss for our city and a senseless crime. This was a single mother with a beautiful child. We will put our arms around this child and this family and make sure they know there's a city who absolutely loves them."
Hancock added that his wife was performing at the concert near where the shooting occurred, and his daughter was in attendance.
After shots rang out, scores of people ran from the northwest side of the pond and stage area, confusing crowds on the south side of the pond who were still lingering over conversation and picnics in lawn chairs and blankets. Someone announced from a loudspeaker on stage that the park was closed and told parkgoers to leave from the south side.
Nakira Doss, 28, was sitting near the stage when she heard at least two shots. She said she covered her three children, ages 7, 5 and 4, as other concertgoers ran past.
"I told my kids to get on the ground, and I laid on top of them," she said.
Samuel Bell, 19, of Denver, said he was in the parking lot looking for a space for his scooter, which police later cordoned off with yellow tape. He said he heard several shots.
"We just arrived at the park. It was crowded, it was looking fun," Bell said. "And then `pa- pa-pa-pa' outta nowhere.
"We just ducked," Bell said. "We pulled off in enough time to get away. It was crazy."
He said he saw police officers administering CPR to the injured officer, who was reportedly shot in the head. He estimated he was about 10 to 20 feet away from where the officer was shot.
The Associated Press contributed to this report.