Maine police rescue a dozen ducklings from sewer grate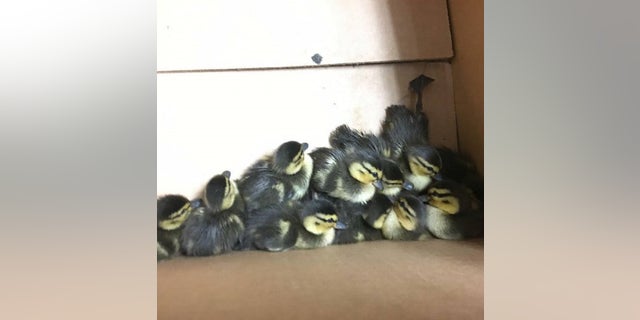 NEWYou can now listen to Fox News articles!
A dozen ducklings were saved last week from a sewer grate by police officers, Maine authorities have shared.
The Portland Police Department posted a snap of the young birds on Facebook Thursday.
"Momma duck was no where [sic] to be found," the post said. "They have been transported to Avian Haven bird rehabilitation center by the Animal Control Officer."
Portland police added that it was "a very quacky morning."
Kim Chavez, an employee at the rehab center in Freedom, spoke to the Portland Press-Herald about the ducks.
DALLAS POLICE OFFICER PRAISED FOR COMFORTING INFANT IN MOMENTS AFTER CAR CRASH
"Mom had stepped off the curb and the ducklings fell in," she explained. "Mom was actually there for most of the day looking for the babies."
According to her, the ducklings are in an enclosure that includes a small pool -- and are going to probably be let into the wild in August if things go well.
Chavez told the Press-Herald that it appeared impractical to reunite the birds.
"At this point they had endured the two-hour journey up (to Freedom) and I didn't think there was any point in trying to send them back the two hours, and honestly as heartbreaking as it is, mom will try again," she said.
Chavez said she was "very glad" the birds were saved, adding she was "sad they weren't given back to their mom."