'Lucky' teen escapes unscathed after driving vehicle into sinkhole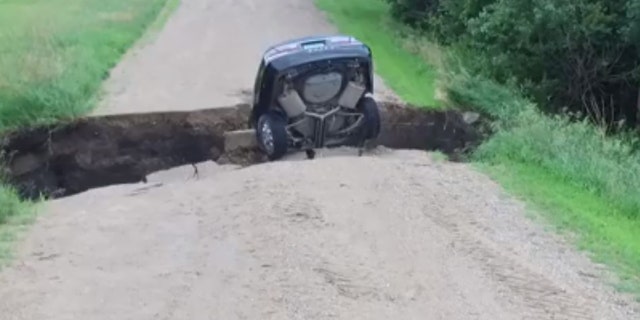 A Minnesota teen managed to survive driving into a gaping sinkhole in Minnesota by climbing out the back window, police said Tuesday.
The sinkhole formed after a culvert under the road washed out due to heavy rains in the area, the Renville County Sheriff's Office said. The 16-year-old boy wasn't injured.
"This 16-year-old driver was very lucky to have escaped without any injuries thanks in part to his seat [belt] and air bags," the sheriff's office said in a Facebook post.
The teen got his driver's license last month and only had the car for a few weeks before the gaping hole swallowed it, the boy's grandmother, Candace Leopold, told WCCO-TV.
Leopold said the teen was on his way to work at a farm near Redwood Falls when he got into the accident.
The Associated Press contributed to this report.