On the first day of school, Louisville's revised school bus system mistakenly skipped students on the morning route and even dropped others off past dark.
Students in the Kentucky district have finally begun returning to school after the disastrous bus system forced students to miss more than a week of classes.
The bus errors were caused by a system redesign meant to reflect the district's shortage of drivers.
Students in Louisville's public school district will return to class starting Friday as part of a staggered reopening that stretches into next week, as administrators reboot a new bus schedule after the system melted down on the first day of school, the superintendent announced Monday.
Schools will reopen on Friday for elementary and middle school students, while high school students will return next Monday, Superintendent Marty Pollio said.
The superintendent apologized Monday to staff, parents, bus drivers and students for the prolonged halt to the new school term.
LOGISTICAL CRISIS PROMPTS SCHOOL CLOSURES IN LOUISVILLE AS NEW BUS ROUTE OVERHAUL HITS SNAGS
"Even if they didn't have a bus problem, I know we've inconvenienced a lot of kids and families who wanted to be right back in school, and we apologize for that," Pollio said.
"This was not anticipated, and that's a mistake on me and on us," he added while acknowledging that "our technology in transportation was extremely antiquated."
The revised schedule means students in Jefferson County Public Schools will miss more than a week of school since the disastrous opening day last Wednesday, when some students didn't get picked up in the morning or came home hours late — with some arriving after dark. The fiasco resulted in hungry and tired children, angry parents and exasperated politicians.
"We are doing everything we can to make this right, and we are going to make this right," the superintendent said.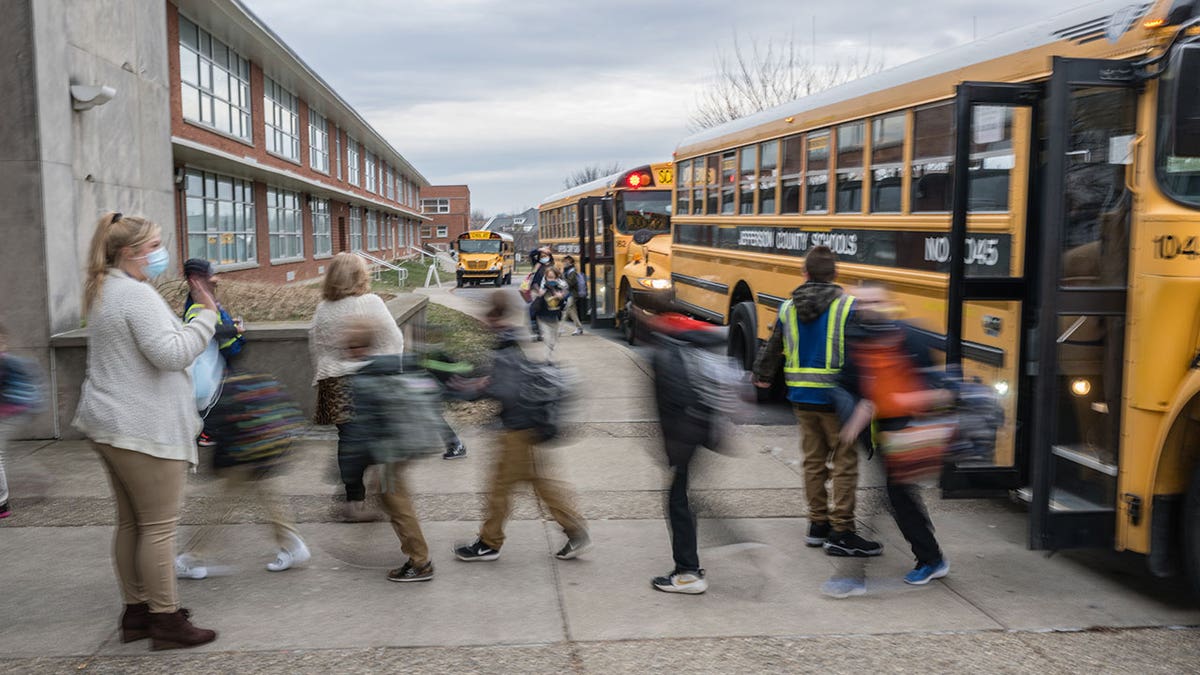 He laid out a series of short- and long-term fixes to the bus system in the sprawling urban district, which has 400 fewer routes than it had 10 years ago, when it had about 950.
The redesign for this school term was intended to solve a basic math problem: Last school year, the district didn't have enough drivers to cover all the routes. The new plan shrunk the number of bus routes in response to that driver shortage.
Delving into what went wrong, Pollio said one of the greatest errors was an inadequate communication system to keep bus drivers, parents and schools informed of delays.
He said parents did not have a way to know where their child's bus was located. "That is unfair to the parents of this community," he said, and that issue is being corrected "immediately."
KENTUCKY'S LARGEST SCHOOL SYSTEM FACES TRANSPORTATION CRISIS, CANCELS CLASSES
Parents will soon have access to a mobile app that will provide information about their child's bus location — though it may not be available to download until next week, when the youngest students are already back in school. The app can send notifications in the morning and afternoon to tell parents when the bus is five minutes away or entering their neighborhood.
The district will install a more efficient system meant to avoid delays at bus depots where many students change buses, the superintendent said. And the district will deploy additional staff members — known as a "shoulder buddy" — who will be available with GPS and a cell phone to assist drivers on the longest, most challenging routes, he said.
Longer term, some routes need to be revamped but it will take time to redraw them, with a goal of making adjustments at the fall break, he said.
Kentucky's largest district, with 96,000 students, had retooled its bus system through a Massachusetts-based consulting company that uses computer algorithms to map out courses and stops. It was a response to the chronic bus driver shortage. The redesigned plan reduced the number of routes.
Pollio said last week that the district should have anticipated that the new plan didn't leave enough time for buses to get from stop to stop, and to transport its 65,000 riders.
CLICK HERE TO GET THE FOX NEWS APP
When additional stops were added to routes, "we did not properly add the time that was needed for a bus driver to complete that," he said. "If it took an extra 10 minutes, that may not have been added to the time of the route."
The fallout from last week's meltdown included harsh criticism from some state lawmakers, who are now calling for evaluations of the school district map to decide whether it should be split up.
The Louisville district will continue trying to recruit more people to drive buses, the superintendent said. He emphatically ruled out any notion of returning to the previous bus route system.
"If we went back to what we were doing, we'd have 750 bus routes with about 600 bus drivers," he said. "We would be canceling close to 20% of our routes every day, which is not tenable."
Pollio noted that many other districts across the country are also experiencing bus driver shortages.
"As the current trend continues, we will continue to have more and more problems throughout this nation," he said, "unless we address our significant bus driver issue."