Louisiana teens stop basketball game, kneel 'out of honor' for passing funeral procession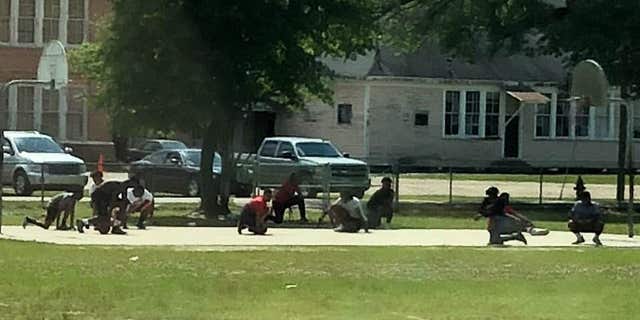 When a group of teens spotted a funeral procession passing by their basketball court in Franklinton, Louisiana, on Friday they instantly paused, put down the ball and took a knee "out of honor" for the deceased and his family.
Sisters Lynn Bienvenu and Johanna Stroud of Denham Springs were in the procession line, mourning the loss of their cousin Velma Kay Crowe, when they saw the boys fall to the ground outside Franklinton Junior High School. They were so touched by the gesture they stopped to snap a picture and thank them for their "impromptu display of respect."
"They took a knee not out of disrespect but honor. There was not an adult insight to tell them to stop playing. This meant a great deal to our family," Bienvenu wrote in a Facebook post that has been shared more than 1,750 times as of Monday afternoon.
Dozens of people praised the boys for their respectul act.
"Great well manned group of young men there," one Facebook user wrote.
"This is what I pray my young men do when I'm not around! Respect. What a beautiful gesture!" another added.
"Hats off to these young men for showing such respect!! Parents, teachers and perhaps religious leaders can be proud," one woman commented.
The photo was shared by several people in community who slowly started identifying the boys and flagging the image to their families.
Bienvenu even "heard from the boys personally," some of whom wanted to pass along "condolences to the family," according to a statement from the family emailed to Fox News.
So far, Bienvenu has identified Shimar Davis, Shimon Davis, Edward James, Brandon Burton, Quindon Burris, Stacy Ard, James Bickham, Avant Money, Malachi Martin and Kalarrian Dillon as being present on the court that day.
Locals say funeral processions often pass by the school and this isn't the first time the basketball players have paused to pay their respect.
"This meant a great deal to our family," Bienvenu said. "May God bless each one as I feel they will achieve greatness."