Lottery insider's brother arrested in $16.5M jackpot-rigging scandal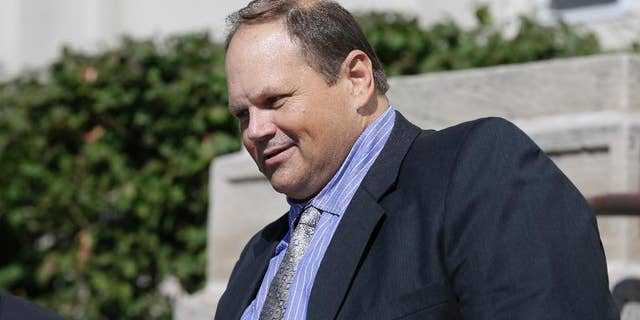 Newly discovered forensic evidence shows how a lottery insider rigged drawings across the country, Iowa investigators said Wednesday as they charged his brother in connection with jackpots claimed in Oklahoma and Colorado.
Tommy Tipton, a former justice of the peace from Flatonia, Texas, turned himself in Wednesday morning to face a charge of ongoing criminal conduct. He is the brother of Eddie Tipton, the former security director of the Multi-State Lottery Association based in Urbandale, Iowa.
Eddie Tipton was convicted last year of fixing a $16.5 million Hot Lotto jackpot in 2010, and is awaiting trial on charges linking him and his associates to five other lottery prizes. Prosecutors have alleged he tampered with random number generators used by state lotteries, but until now haven't had digital evidence because the computers he worked on had been erased or destroyed.
But in what investigators called a significant break, court documents filed Wednesday show Wisconsin authorities were able to recover the random number generator used for a $2 million jackpot Megabucks jackpot claimed by Eddie Tipton's best friend in 2008.
A forensic examination found that the generator had additional, unauthorized segments of code that were installed after it had been reviewed and verified as legitimate by a lottery security firm. That code directed the generator not to produce random numbers on three particular days of the year when they fell on certain days of the week. Instead, numbers on those days would be drawn by a "multi-variable algorithm" that Tipton could predict based on his knowledge of how it worked, the documents said.
All of the six jackpots linked to Tipton were drawn on either the days of Nov. 23 or Dec. 29 over a span of several years.
"Upon re-creating the draws according to the algorithm, forensic examiners produced the very same `winning numbers' from the program that was supposed to produce random numbers," Iowa Division of Criminal Investigation agent Don Smith wrote in an affidavit.
Assistant Iowa Attorney General Rob Sand, who has overseen a lengthy investigation into Tipton, said Wisconsin investigators "are due credit for these welcome developments in electronic evidence."
Tommy Tipton's attorney didn't immediately return a phone message. He was released from the Polk County Jail on bond.