Los Angeles Marathon runner revived after going into cardiac arrest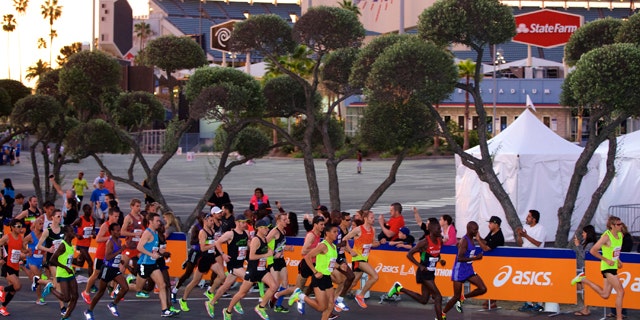 NEWYou can now listen to Fox News articles!
Paramedics brought a competitor in Sunday's Los Angeles Marathon back to life after the man suffered cardiac arrest just over four miles from the finish line.
KTTV reported that the unidentified 61-year-old collapsed in Brentwood at Mile 22 of the 26.2-mile race. Emergency responders were able to restart the man's heart and transported him to a local hospital, where he was reported to be conscious.
The race was run on the third day of a heat wave that has seen temperatures soar into the 90s in parts of Los Angeles. Organizers sent the female and male elite runners off from the starting line at Dodger Stadium just before 7 a.m. local time, prior to sunrise.
Officials said the temperature at the start of the race was 67 degrees, the third warmest start in the race history and the warmest since 2004 when it was 76 degrees. The warmest starting temperature was 79 in 1993. Runners said they felt the heat as the race wound through Hollywood, West Hollywood and Beverly Hills to the finish line near the Santa Monica Pier.
"At eight (kilometers), there was still a lot of humidity," women's second-place finisher Lani Rutto of Kenya Rutto told the Associated Press. "I tried to resist my best, but I not make it. I want to say it was tough."
Around 26,000 runners participated in the race, which has been run every year since 1986.
The Associated Press contributed to this report.