Loose emu stops traffic on Arizona highway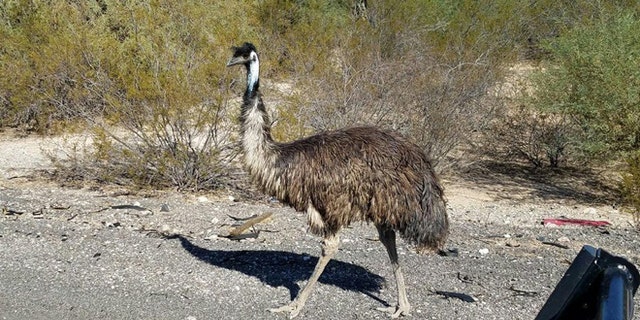 Officials released photos Friday of a loose emu that stopped traffic and surprised plenty of drivers on Interstate 10 in Arizona.
VIDEO: DEER BEFRIENDS OFFICER RESCUER

Troopers responding to a 911 call spotted the long-legged bird in the middle of the highway about 100 miles west of Phoenix, the Arizona Republic reported.
Troopers watched the emu trot across the traffic lanes and then a state agricultural official used a lasso to capture it on the dirt shoulder.
FLORIDA DRIVER SURPRISED BY SNAKE
"Wild day on I-10 west of Phoenix. Emu on the loose!!" Arizona Department of Public Safety spokesman Quentin Mehr tweeted.
A transport trailer ultimately hauled off the emu.
"And the emu, and motorists are safe," Mehr also tweeted.
Troopers said they didn't know where the bird came from or how it got on the highway.
Last year two quick-footed llamas created a social media sensation when they were seen dashing in and out of traffic in a Phoenix-area retirement community.