Lone survivor of Texas shooting that killed family released from hospital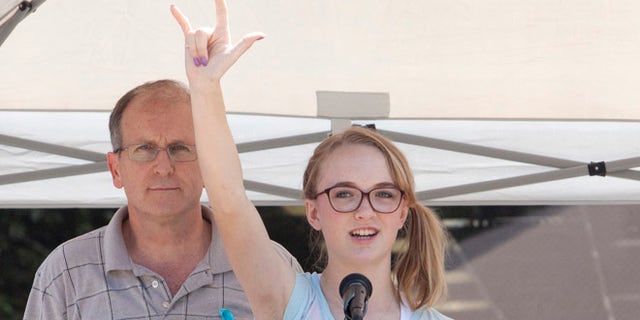 HOUSTON – A 15-year-old girl who survived being shot by her uncle in an attack that left her parents and four younger siblings dead said Saturday that she was on the road to recovery.
Cassidy Stay thanked first responders Saturday while speaking to a crowd at an elementary school in her hometown of Spring, the Houston Chronicle reported. It was her first public appearance since the shootings.
"Happiness can be found even in darkest of times, if one remembers to turn on the light," Stay said, paraphrasing a quote by Albus Dumbledore, the beloved headmaster of the Hogwarts school of wizards from the Harry Potter books.
Stay was released from the hospital Friday, two days after the attack by her aunt's ex-husband, Ronald Lee Haskell. Authorities say Haskell stormed into the family's home Wednesday and fatally shot Cassidy's parents and four siblings, who ranged in age from 4 to 13 years old, after binding them and putting them face-down on the floor of their home.
Cassidy suffered a fractured skull when a bullet grazed her head. Authorities say she survived by playing dead and called police to warn that Haskell intended to go to her grandparents' house next.
A video posted on KPRC-TV's website shows Stay's grandfather, Roger Lyons, saying that "without her courage and quick thinking we might be mourning the death 20 people today, including myself and nearly all of my children and grandchildren."
The 15-year-old recalled feeling as if angels were with her whispering to her to be quiet, Lyons said.
"We have wondered whether those angels might have been her brothers and sisters," he said.
"I'll be able to see them again one day," the girl said of her slain relatives.
People attending the ceremony released hundreds of balloons and tied ribbons of different colors to trees in remembrance of the family.
Haskell had a handful of previous run-ins with law enforcement in Utah, where he had lived with his wife. Neighbors said Haskell's marriage was so rocky that Stay went to Utah last fall to help her sister escape the relationship and start a new life in Texas.
The Associated Press contributed to this report
Click for more from MyFoxHouston.com