Local Washington mayor feared deadly accidents weeks before Amtrak derailment
An Amtrak train carrying more than 70 passengers derailed in Washington state Monday morning during its inaugural ride on a new route, leaving multiple people dead and injured — but a local mayor predicted the high-speed rail plan would end with a deadly accident.
Mayor Don Anderson and other city officials in Lakewood, southwest of Tacoma, attended a meeting on Dec. 4 on the new project to upgrade tracks, KOMO News reported. Anderson believed it was a matter of time the high-speed train would be involved in a deadly accident.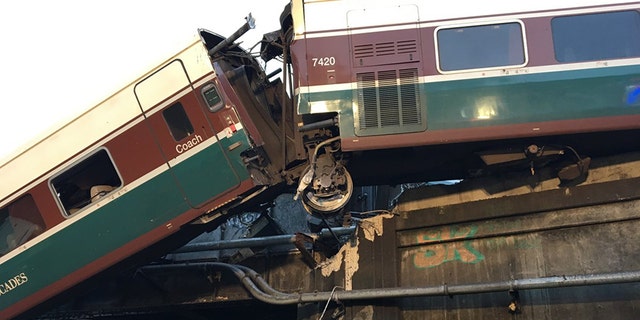 "It's virtually inevitable that someone is going to get killed that wouldn't be killed otherwise," Anderson said. "This is unacceptable."
AMTRAK TRAIN DERAILS IN WASHINGTON STATE ONTO INTERSTATE 5, LEAVING SEVERAL DEAD
"Come back when there is that accident, and try to justify not putting in those safety enhancements, or you can go back now and advocate for the money to do it, because this project was never needed and endangers our citizens," Anderson said.
Anderson also advocated for grade separations, including overpasses, to keep trains sufficiently separated from pedestrians and cars.
Monday was the first day that schedule changes to include two new round trips between Seattle and Portland began for Amtrak's Cascades service. The project rerouted passenger trains to a bypass rail line that ran along Interstate 5, in an effort to cut the travel time by 10 minutes, according to KOMO. Project officials touted its on-time reliability, saying the new trains could reach speeds up to 79 mph.
Officials in Lakewood also went to court in 2013 to stop the Point Defiance Bypass project. In March 2014, a judge dismissed the lawsuit and the $181 million track upgrade moved forward. Until now, the route was used by freight trains.
TRUMP: AMTRAK DERAILMENT SHOWS NEED FOR INFRASTRUCTURE PLAN
Amtrak train 501 heading southbound derailed around 7:30 a.m. local time after it left the new Tacoma station. At least three people were killed and more than 70 were transported to nearby hospitals. It's still unclear what caused the derailment, but a U.S. official told The Associated Press that track obstruction was being investigated as a possible cause.
Photos from the scene showed at least one train car completely detached and on Interstate 5 while another dangled in the air. Drivers on the highway were injured, but none were killed, police said.
President Trump also tweeted shortly after the derailment: "The train accident that just occurred in DuPont, WA shows more than ever why our soon to be submitted infrastructure plan must be approved quickly. Seven trillion dollars spent in the Middle East while our roads, bridges, tunnels, railways (and more) crumble! Not for long!"
He followed it up with another tweet saying his "thoughts and prayers" were with everyone involved in the deadly derailment.
Fox News' Nicole Darrah and The Associated Press contributed to this report.