List of fatal mountain climbing accidents around the world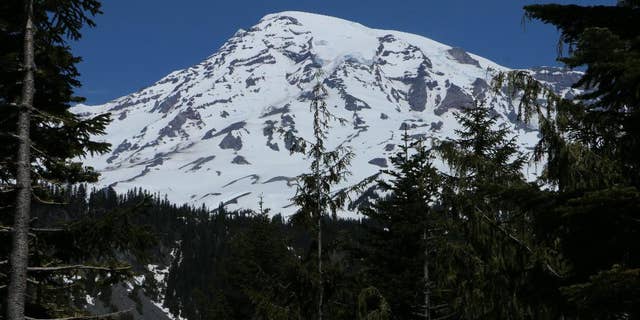 Six people are believed dead in a fall while attempting to scale Mount Rainier in Washington state last week, one of the deadliest accidents ever on the iconic peak in the Cascade Mountain Range.
A list of other fatal climbing accidents around the world:
April 2014: At least 13 Sherpa guides lost their lives in Mount Everest's deadliest avalanche.
July 2012: A massive avalanche on France's Mont Maudit, one of Mont Blanc's most popular routes, killed nine climbers and injured 14 others.
Aug. 2008: Eight climbers were killed by an avalanche caused after a massive block of ice cracked off a side of the Mont Blanc du Tacul in the Mont Blanc range in western Europe.
Aug. 2008: Eleven climbers from South Korea, Nepal, Pakistan, France, Ireland, Serbia and Norway died after an avalanche of falling ice blocked their party's descent from K2 in the Karakoram range between Pakistan and China. It was the deadliest mountaineering disaster to hit the world's second highest peak.
July 2003: Eight people were killed in an avalanche near the summit of glacier-capped Alpamayo in the Peruvian Andes. The climbers — from Germany, Israel, the Netherlands and Argentina — were about 490 feet from the mountain's 19,510-foot summit when they were swept away.
May 1996: Seven men and a woman, including veteran climbers Scott Fischer and Rob Hall, died when they were trapped by an unexpected blizzard as they descended Mount Everest's 29,028-foot summit. It was one of the worst tragedies on Everest since its conquest in 1953.
Nov. 1995: Twenty-six people — 13 Japanese climbers and 13 Nepalese guides — were killed by an avalanche in the Gokyo valley of Nepal. At least 46 climbers were killed in avalanches and landslides that weekend in one of Nepal's worst disasters.
Nov. 1994: Nine Germans, one Swiss and one Nepalese Sherpa guide died while climbing down Mount Pisang in northwest Nepal, in one of the worst mountain climbing accidents in the Himalayas. All eleven climbers were attached to one rope.
Nov. 1993: Ten climbers died on Mt. Chimborazao, the highest peak in Ecuador.
July 1990: At least 40 climbers from a Soviet-Swiss expedition were buried in avalanche touched off by an earthquake in the Pamir mountains in Central Asia. The avalanche struck their base camp at 16,000 feet, more than two-thirds of the way up Lenin Peak, 1,800 miles southeast of Moscow.
May 1986: Seven teenagers and two teachers from Oregon Episcopal School in Portland, Oregon, froze to death during a blizzard on Mount Hood, the worst mountaineering disaster on Mount Hood since records began in 1896. Two other students were rescued from the snow cave the hikers had carved out.
June 1981: Eleven climbers were killed on Mount Rainier by a massive ice fall on the Ingraham Glacier between Disappointment Cleaver and Gibraltar Rock.