Lincoln Memorial defaced with explicit graffiti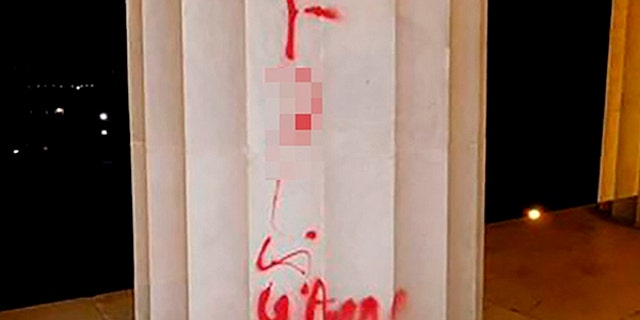 Authorities in the nation's capital are searching for a vandal after the Lincoln Memorial was spray painted with explicit graffiti early Tuesday.
The National Park Service said it was working to remove the graffiti after it was discovered at about 4:30 a.m., FOX 5 DC reported.
The graffiti, which was done in red spray paint on a column, appears to say "F*** law."
Silver spray paint was also found on a Smithsonian wayfinding sign on Constitution Avenue, according to the park service.
The monument preservation crew started cleaning up the tagged areas with a "gel-type architectural paint stripper safe for use on historic stone," and will continue to use the treatment until the graffiti is completely gone.
Anyone with information about the incident is asked to contact the U.S. Park Police at 202-610-7515.