Lifelong friends in Hawaii discover they're also brothers in 'a Christmas miracle,' report says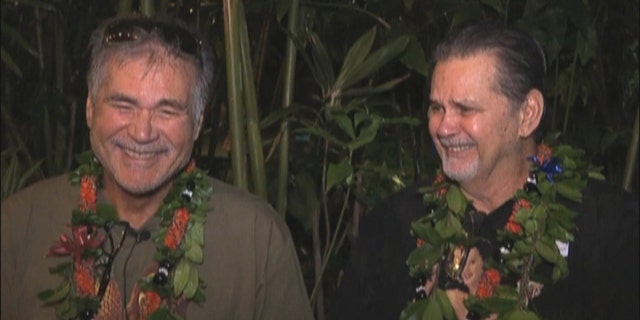 Two men in Hawaii, who've been friends for 60 years, celebrated the holidays early on Saturday after telling their families that they were also brothers, KHON2 reported.
Alan Robinson and Walter Macfarlane, who were born 15 months apart, have reportedly known each other since they were in 6th grade and grew up with somewhat similar backgrounds. Robinson was adopted and Macfarlane was never told who his father was, the outlet said.
So when Macfarlane, with the help of his family, decided to research his lineage, they uncovered a truly unexpected surprise.
MARYLAND POLICE OFFICER RESCUES BALD EAGLE ON CHRISTMAS EVE
His daughter, Cindy, told KHON2 that someone with the username Robi737 kept popping up in his DNA matches on Ancestry.com and the information showed that they had the same X chromosome. And to make the results even more convincing, the recurring username was reportedly related to Robinson.
"As a nickname everybody called him Robi and he flew 737s for Aloha Airlines, he was a pilot," Cindy told the outlet.
Robinson, who was also trying to research his family, and Macfarlane talked it over and said "it was a shock" to find out that they unknowingly had the same mother, KHON2 reported.
AFTER 445 DAYS AT KC SHELTER, MASTIFF MIX FINALLY LANDS HOME
"It was an overwhelming experience, it's still overwhelming," Robinson said. "I don't know how long it's going to take for me to get over this feeling."
The men said they're planning to travel and spend more time together, according to the outlet.
"This is the best Christmas present I could ever imagine having," Robinson told KHON2.