Life-saving medic recounts horror of shark attack on North Carolina girl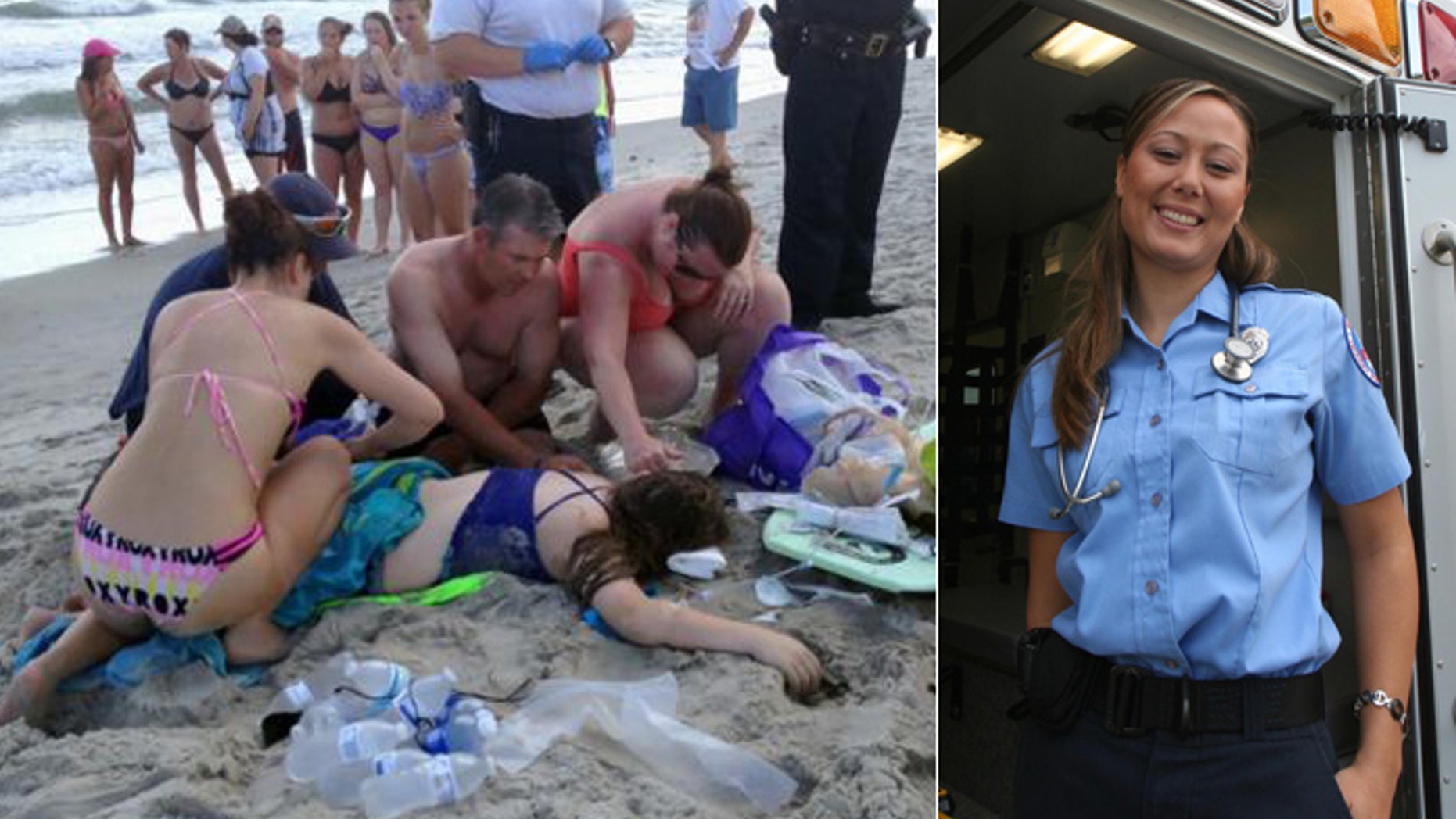 Marie Hildreth had just stepped from the water off North Carolina's Oak Island to throw a football with her family Sunday when she saw a woman running up the beach, arms flailing and yelling.
Minutes later, Hildreth, a 32-year-old paramedic from Charlotte, was on the sand next to a 12-year-old girl who had just lost part of her limb to a shark in waist-deep water.
"A woman came running down and said there's a shark attack," Hildreth told FoxNews.com. "Initially I thought, 'What are the chances?'"
"I don't think I did anything special."
Then, Hildreth said, her mother saw a dark fin emerge from the water and a crowd forming around a young girl, face down in the sand with her green and black boogie board still strapped to her arm.
"She was bleeding pretty bad," noted Hildreth, who said she used strings ripped from a beach tent to create makeshift tourniquets to wrap around the girl's leg and arm.
"People were trying to do hemorrhage control but no one was trained," she said. "If you have certification as a paramedic you have a duty to act."
"I got the bleeding to stop," Hildreth said, as she asked the girl -- later identified as Kiersten Yow -- what her favorite colors are.
"I asked just simple things to keep her talking," she said of Yow, from Archdale, N.C. "She never cried, never complained. She answered all my questions."
A person then handed Hildreth an IV, which she inserted into the girl's arm to give her fluids. The child was in hypovolemic shock, she said.
On the same stretch of beach, meanwhile, 16-year-old Hunter Treschl, of Colorado Springs, Colo. was attacked 90 minutes later by a shark as he was swimming in shallow water 20 yards off shore.
Both Yow and Treschl were airlifted to New Hanover Regional Medical Center in Wilmington, where they underwent surgery and remain in stable condition.
Yow lost her arm below the elbow after the shark attack and suffered tissue damage to her leg, the hospital said in a press release Monday. Treschl lost his left arm below the shoulder.
It's not known whether the same shark is responsible for the attacks.
On Monday, Treschl's mother released a statement, thanking, "everyone who has cared for my son, from the people who saved him through their quick actions on the beach, to the transport crew, emergency department team, doctors and staff here at New Hanover Regional Medical Center."
Hildreth, who was born in Hawaii and raised in Charlotte, has worked as a paramedic for 11 years. The ordeal, she said, "really hit home for me" because she and her family had just been in the water.
Hildreth credited the other first responders who came to the girl's aide, one using a boogie board as a stretcher to transport her to the hospital. She also praised the girl's parents for remaining "stoic."
Oak Island town manager Tim Holloman told FoxNews.com Yow's parents are "very appreciative" of the efforts by Hildreth and the other bystanders.
"It helped secure the scene for when our paramedics arrived," he said.
To Hildreth, her life-saving actions were nothing extraordinary.
"I'm just glad that I was able to help and hope that whatever I did will benefit her in the long run," she said. "I don't think I did anything special."