Leiby Kletzky Only Known Victim of New York Murder Suspect, Police Say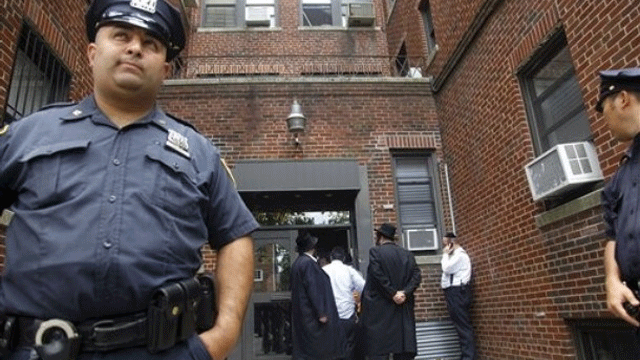 Investigators say they haven't established any links between New York murder suspect Levi Aron and unsolved crimes in other states, a day after the Brooklyn man was indicted in the killing and dismembering of an 8-year-old Hasidic boy.
Aron, 35, has pleaded not guilty to charges of murdering and kidnapping Leiby Kletzky, who got lost July 11 while walking home alone from day camp in his Orthodox Jewish neighborhood in Borough Park, Brooklyn, and asked the suspect for help.
After an extensive manhunt for the boy, police allegedly found his severed feet inside a freezer in Aron's apartment and other remains in a suitcase thrown into a Dumpster in another Brooklyn neighborhood.
Police have since used Aron's DNA to investigate possible connections to crimes in other states where Aron once lived, according to a report on CBS 2's website. The website reported that investigators are looking at crimes in states like Tennessee, Arkansas and Florida.
New York City Police spokesman Paul Browne told FoxNews.com on Thursday that it is "standard procedure" to look for possible connections to other crimes.
"We would do that in every serious crime," Browne said.
"We don't have anything to suggest victims other than the one in this case," he said. "We have him linked to only the one."
But that could change, law enforcement sources say, as more details emerge about Aron, who authorities say has no known criminal past.
The New York Post, citing police sources, reported Thursday that authorities searching Aron's Brooklyn apartment removed children's clothing that did not belong to Leiby. But police have not discovered any other victims.
Aron's only other arrest was for public urination but police are looking into reports that Aron may have once tried to lure another boy into his car, according to the New York Daily News.
Captain Mike Griffus of the Germantown Police Department in Germantown, Tenn., a suburb of Memphis where Aron once lived, told FoxNews.com on Thursday that "we're not looking at him for anything."
"We don't have anything remotely related to that type of a crime," Griffus said, adding that the only involvement his department had with Aron was over a speeding ticket issued on April 7, 2006.
A spokeswoman with the police department in Memphis also told FoxNews.com that Aron is not currently being investigated for any crimes committed within the city.
The FBI said Thursday that the case is still considered a "local matter" and that the bureau has no involvement in the case at this point.
The medical examiner revealed Wednesday that Leiby was given a toxic combination of drugs before he was smothered and then dismembered. The cause of death was intoxication from a muscle relaxant, an anti-psychotic drug and two pain medications, followed by smothering.
Police say video cameras captured their fateful encounter while Leiby's mother waited anxiously just a few blocks away. Detectives later found the boy's severed feet, wrapped in plastic, in Aron's freezer, as well as a cutting board and three bloody carving knives.
Aron implicated himself in the killing, according to New York City Police Commissioner Ray Kelly.
"When I saw the fliers, I panicked and was afraid," Aron allegedly told investigators.
Leiby's family, meanwhile, has set up a website in his honor.
The Leiby Kletzky Memorial Fund hopes to raise $1 million for needy children and families.
The website shows photos of Leiby as a baby and toddler and lists all the things he'll no longer be able to do -- like bring home another report card.
It says donations "will accomplish all the wonderful things that Leiby would have achieved -- had he lived."
Click here to visit the Leiby Kletzky Memorial Fund
The Associated Press contributed to this report.