Legal experts say San Francisco immigrant suspect has difficult task combatting murder charge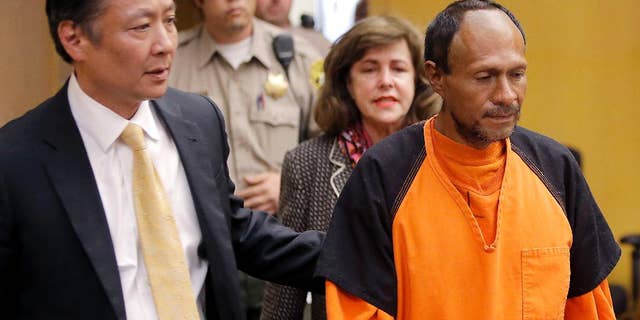 NEWYou can now listen to Fox News articles!
SAN FRANCISCO – Even if the murder suspect at the center of a national immigration debate accidentally fired the shot that killed a young woman on San Francisco's Pier 14, that may not help his case.
A jury can still conclude that simply handling a semi-automatic pistol in a crowded tourist area was so reckless that he's guilty of second-degree murder rather than a less severe manslaughter conviction, legal experts said.
Juan Francisco Lopez-Sanchez has pleaded not guilty to murder for the July 1 shooting death of 32-year-old Kate Steinle (STINE-lee).
Lopez-Sanchez is in the country illegally and has been deported five times previously.
His release from jail in April sparked intense debate over a San Francisco sanctuary law to ignore detention requests from the federal government, a policy many other cities and counties have also adopted.