Lawyer: Brazil soccer official 'never joined' in any bribes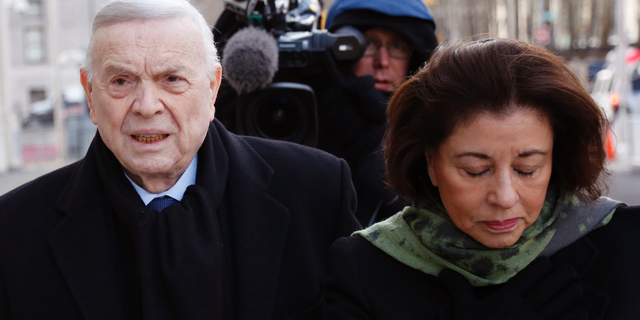 NEW YORK – Closing arguments at the U.S. corruption trial of three former South American soccer officials concluded Thursday with the lawyer for an ex-president of Brazil's soccer federation claiming his client was clueless about a bribery scheme and a prosecutor saying the testimony of the star government witness was "devastating" for the defense.
Jose Maria Marin "never joined in the conspiracy. ... He sits here today an innocent man," defense attorney Charles Stillman said on the second day of closing arguments in federal court in Brooklyn, where jury deliberations are set to begin Friday.
Marin, 85, became president of Brazilian soccer in 2012 to fill out the term of a predecessor who resigned. But he was a mere figurehead, while a younger soccer official who's the current president, Marco Polo del Nero, took command and got in on the scheme, Stillman said.
Marin "became president by default," the lawyer told jurors. "Del Nero ran the show."
Del Nero also is charged in the U.S. criminal case stemming from a sprawling investigation of FIFA, soccer's governing body, but hasn't been extradited from Brazil.
Lawyers for Marin, Manuel Burga, of Peru, and Juan Angel Napout, of Paraguay, have sought to discredit several cooperating witnesses who testified that the soccer officials took millions of dollars in bribes in exchange for their influence in awarding lucrative commercial rights to some of soccer's biggest tournaments.
Marin, Burga and Napout, a former president of the CONMEBOL South American soccer confederation and a FIFA vice president, have pleaded not guilty to conspiracy and other charges.
One of the cooperators, former Argentine marketing executive Alejandro Burzaco, spent four days on the witness stand detailing how his firm paid tens of millions of dollars in bribes to the defendants and other officials. Defense lawyers argued that Burzaco, who has pleaded guilty, was shifting blame to their clients so he could win a reduced sentence for himself.
In a rebuttal argument, Assistant U.S. Attorney Sam Nitze told jurors that the cooperator's account is backed up by other evidence like wiretaps and financial records.
Defense lawyers "have to attack Alejandro Burzaco because his testimony was devastating," he said.
He added the witness would risk further charges by lying and "had more incentive to come clean and tell the truth."
Another cooperator, Brazilian businessman Jose Hawilla, made recordings played at the trial, including one of a conversation he had with Marin in 2014 in which prosecutors say the defendant negotiated a bribe by saying, "It's about time to have it coming my way. True or not?"
Hawilla responded: "Of course. That money had to be given to you."