Family of Chicago security guard shot dead by cop files lawsuit
The family of a security guard who was mistakenly shot and killed by a cop outside a bar in Chicago's south suburbs early Sunday morning has filed a federal lawsuit, accusing the officer of excessive force, according to the family's attorney.
Jemel Roberson, 26, a church organist who wanted to become a police officer, was holding a man "on the ground with his knee in his back," while holding a gun following a shooting at Manny's Blue Room in Robbins, witnesses said.
"He was getting ready to train and do all that stuff, so the very people he wanted to be family with took his life," said Pastor Patricia Hill of Purposed Church.
COP ACCIDENTALLY KILLS SECURITY GUARD AT BAR IN CHICAGO SUBURBS: REPORT
When police arrived at the scene, one of the two officers fatally shot Roberson – who was wearing a hat with "security" across the front, the family attorney said.
"Everybody "is screaming out, 'He's a security guard," witness Adam Harris told WGN-TV.
Roberson was pronounced dead shortly after being taken to a hospital. Four others were shot and wounded, including a man who police believe fired a gun before police arrived, Cook County sheriff's spokeswoman Sophia Ansari said.
Roberson, a father of a 9-month-old boy, was licensed to carry a firearm, Ansari said.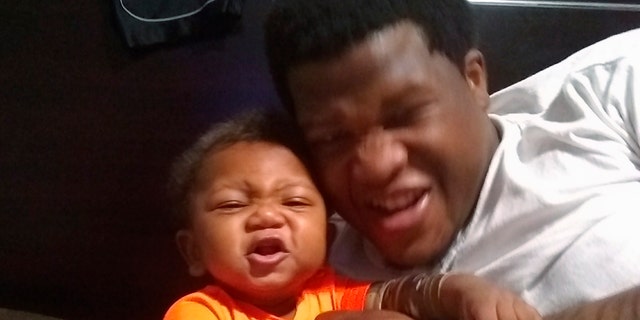 Charges were pending against the man who investigators believe fired the initial shots during a dispute. His name was not released, and he remained hospitalized Monday, Ansari said.
Investigators said the initial gunfire was reported around 4 a.m. An officer responding from nearby Midlothian encountered and shot "a subject with a gun," Midlothian Police Chief Daniel Delaney said in a statement. The person was later identified as Roberson.
The officer's identity has not been released. Midlothian Police Chief Daniel Delaney told CBS Chicago the officer is a Midlothian patrol officer who has been with the department for four years. Delaney said the officer "is on paid administrative leave during" the investigation.
Roberson, who was black, was the only person killed. The other four people who were shot suffered wounds that weren't considered life-threatening, Ansari said.
Attorney Gregory Kulis filed a civil rights lawsuit seeking more than $1 million on behalf of Roberson's mother, Beatrice Roberson.
CHICAGO OFFICER CONVICTED IN SHOOTING RETURNS TO COURT
"This was going to be my baby's first Christmas with his dad and now he's going to miss out on everything," said Avontea Boose, the mother of Roberson's son.
Illinois State Police are investigating Roberson's shooting. The agency said it would not comment on the investigation until it is completed.
The Associated Press contributed to this report.