Latest: Crews protect hillside home as California fire roars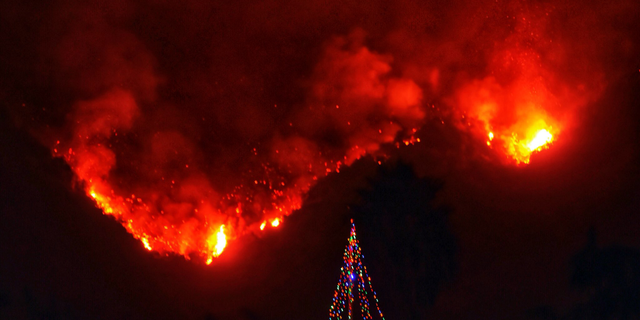 LOS ANGELES – The Latest on California wildfires (all times local):
5:45 a.m.
Southern California's huge wildfire continues to rip through dry brush atop a coastal ridge as crews struggle to keep flames from roaring down into neighborhoods.
Firefighters protected foothill homes near Santa Barbara, taking advantage of calmer overnight winds that forecasters say could whip up again Tuesday.
Officials express relief that much of the fire's growth is occurring to the north in unoccupied forest land but warn that the seaside towns of Montecito and Carpinteria and Fillmore in Ventura County remain at risk. Tens of thousands remain evacuated.
Poor air quality is keeping many schools closed. As ash rains down and smoke blows through streets, regulators are urging people to remain inside if possible and avoid strenuous activity.
The fire, now the fifth largest in California history, is just 20 percent contained.