Last U.S. combat flag from Vietnam War up for auction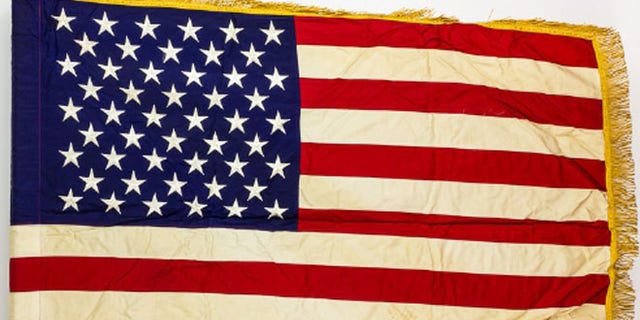 The last American combat flag from the Vietnam War is being put up for auction.
War hero Army Col. Chester Bailey McCoid took the large flag with him when he became the last ground force soldier to leave the South Vietnam port city of Da Nang on March 29, 1973, a month before the fall of Saigon, the Washington Examiner reports.
The flag is being sold by the Maryland auctioneer Alexander Historical Auctions, according to the news outlet. The live and online auction of the flag and other historic mementos is slated for this week on Tuesday and Wednesday.
The auction comes as President Obama arrived in Vietnam Sunday for a three-day visit aimed at boosting economic and defense ties with the former U.S. enemy.
Bill Panagopulos, president of the auction house, called the flag "a historic relic from a war which still stirs controversy at its very mention."
He expects the flag will fetch at least $10,000 and as much as $50,000, according to the Examiner.
"The flag offered here is the flag taken by McCoid from his field headquarters in Da Nang following the final negotiating session of the war," Alexander notes in its online auction catalog. It measures 52 inches by 34 inches.
McCoid's role in Da Nang was to carry out terms of the Paris Peace Accords signed two months earlier by President Richard Nixon.
McCoid was 77 when he died in 2000 after a distinguished career in the Army as a combat infantryman.
He joined the Army during World War II after lying about his age, the Examiner reported. He also served in the Korean War.