Last known 9/11 search-and-rescue dog dies in Texas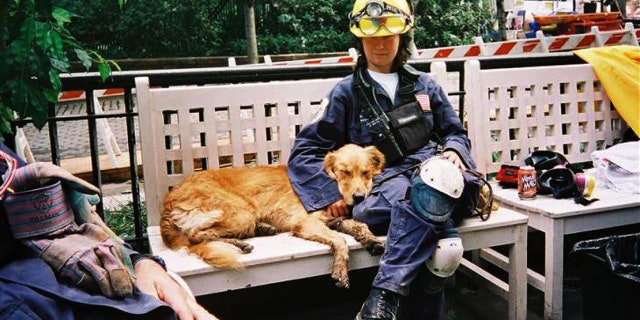 NEWYou can now listen to Fox News articles!
The last known living search dog who helped recover victims of the Sept. 11, 2001 terror attacks died in a Houston suburb at age 16.
A statement from the Texas A&M Engineering Extension Service says Bretagne (pronounced like Brittany), a Golden Retriever, was euthanized at a veterinary clinic in Cypress.
The Houston Chronicle reported that around two dozen firefighters lined the sidewalk as Bretagne was brought into the veterinarian's office Monday. An American flag was draped over the dog's body as it was carried out.
Bretagne was 2 years old when she and her handler, Denise Corliss, were part of the Texas Task Force 1 sent to the World Trade Center site in Lower Manhattan after two hijacked airlines brought down the Twin Towers. They spent 10 days at the scene searching rubble for human remains.
Bretagne had lived with Corliss, a volunteer Cy-Fair firefighter, for her entire life. Bretagne retired from active duty at age 9. To celebrate the dog's 16th birthday this past September, Corliss took her to New York, where the pair visited the 9/11 memorial and Bretagne received a special key to the city.
The Associated Press contributed to this report.
Click for more from The Houston Chronicle.