LAPD releases video of fatal police shooting of female hostage held at knifepoint
Authorities in Los Angeles released dramatic body cam video on Tuesday of a shooting in June that killed a knife-wielding man and a woman he was holding hostage – the first of two incidents this summer where a bystander was killed as police tried to stop an attacker.
The shooting on June 16 took place outside a homeless outreach center in Van Nuys, when the attacker, later identified as Guillermo Perez, tried to saw off a hostage's head, police said. Officers fired nearly 20 times, striking both of them.
"It's been 13 years since an officer's gunfire has killed an innocent bystander or hostage in this department," Police Chief Michel Moore said at a news conference. "In the last six weeks, it's happened twice."
The second shooting took place on July 21, when police tried to stop an armed man from entering a Trader Joe's supermarket and struck Melyda Corado, 27, the supermarket's assistant manager who was standing nearby. Corado, a recently promoted employee, was pronounced dead at the scene.
TRADER JOE'S EMPLOYEE, WHO DIED IN HOSTAGE SITUATION, KILLED BY LAPD GUNFIRE, CHIEF SAYS
"This is another case where officers were forced to make split-second decisions based on the actions of a violent individual," Moore said Tuesday.
In newly released footage from officers' body cameras, police spotted Perez holding a large knife and a metal folding chair outside the Central Lutheran Church after receiving a 911 call that a man had stabbed his ex-girlfriend.
"Drop the knife!" an officer repeatedly shouted at Perez, who ignored the command.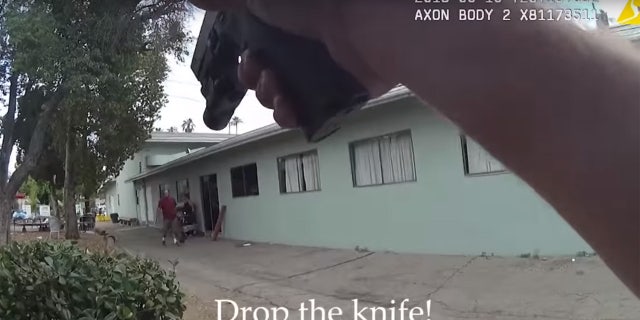 After an officer fires several rounds from a bean bag shotgun, Perez grabs a folding chair to use as a shield to deflect them.
The 32-year-old then grabs a woman, identified as Elizabeth Tollison, and holds a knife to her throat.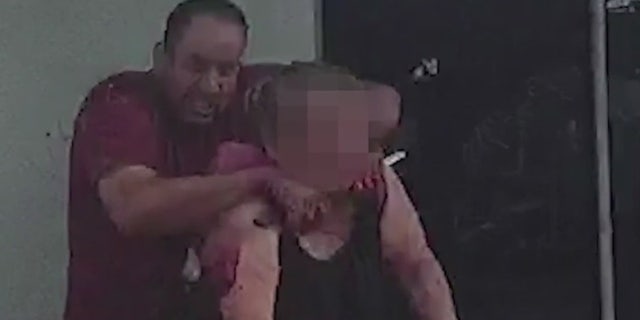 Witnesses told police that Perez moved the knife in a "sawing motion against her throat and cut her throat," Cmdr. Alan Hamilton, who leads the unit that investigates police shootings, said in the video released by police Tuesday.
MINNEAPOLIS POLICE RELEASE FOOTAGE OF FATAL SHOOTING OF ARMED MAN; OFFICERS WON'T FACE CHARGES
As Perez cut the woman's throat, three of the officers opened fire, shooting 18 rounds, killing Perez and Tollison. The LAPD said that Tollison was hit by two rounds.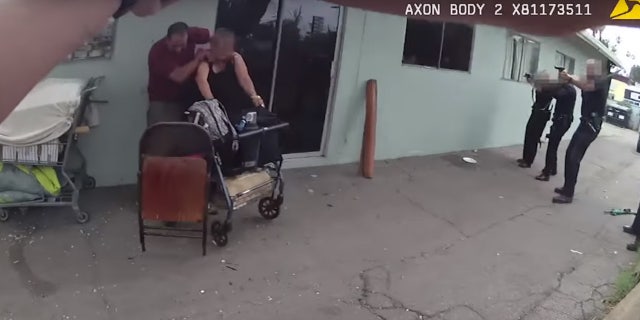 Perez, a noted gang member, had recently been released from prison after serving multiple felony domestic abuse and assault charges, according to police.
Perez's ex-girlfriend, who was being attacked when the initial 911 call was made, was taken to the hospital with injuries that were not life-threatening.
Moore told reporters that hostages' lives are a priority and recruits are generally taught to use a "precise head shot." He said an investigation will look at whether the officers' actions align with hostage training.
"The life of a hostage is paramount and protecting that individual from the threat of the assailant," Moore said. "In doing that, the balancing act the officer has is how to protect them by stopping the suspect's actions."
The police chief added that he was concerned because the average number of rounds fired by officers during shootings had increased last year, and the average number of officers involved in those shootings also increased.
"There's much more work remaining and only upon further review of the investigation will I be in a position to provide my recommendations on the actions of those involved," Moore said Tuesday.
The LAPD plans to implement a new training program, and is exploring how to equip officers with other non-lethal weapons, he added. Tollison's family is going to file a wrongful death lawsuit on Wednesday, a representative from the family told Fox News.
Fox News' William Lajeunesse, Ryan Gaydos and The Associated Press contributed to this report.