Lady Liberty is African-American in new commemorative coin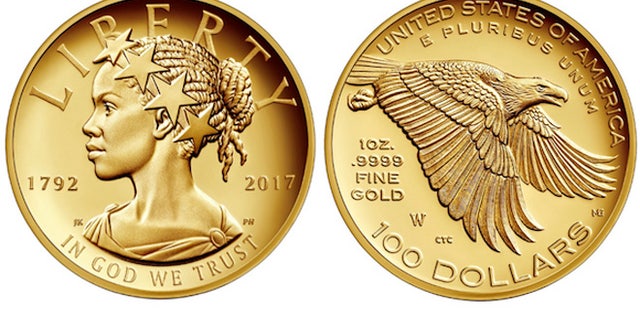 Lady Liberty appears "in a new light, as an African-American woman," in a $100 gold coin unveiled Thursday, officials at the U.S. Mint have announced.
The 2017 American Liberty 225th Anniversary Gold Coin shows a woman's head in profile with a crown of stars. It features the year of the Philadelphia mint's founding, 1792, as well as 2017. The reverse side of the coin depicts an eagle in flight.
OFFICER WAS WRONG TO ARREST PREACHER FOR READING BIBLE AT DMV, COURT RULES
The coin is the first in a series. Future 24-karat gold coins will show Liberty in designs representing Asian-Americans, Hispanic Americans and Native Americans, according to the mint. From the late 18th through the early 20th century, most U.S. coins featured depictions of Liberty as a woman of Europen ancestry.
"The coin demonstrates our roots in the past through such traditional elements as the inscriptions 'United States of America,' 'Liberty,' 'E Pluribus Unum' and 'In God We Trust,'" Principal Deputy Director Rhett Jeppson said.
The goal of the coins is to reflect the "the cultural and ethnic diversity of the United States," the mint says. The Treasury Department announced last April that abolitionist Harriet Tubman will replace President Andrew Jackson on the $20 bill starting around 2020.
The one-ounce coin is set to be released on April 6. It comes in a wooden case with an anniversary booklet and a certificate of authenticity, USA Today reported.
The Associated Press contributed to this report.