Kohler Co. workers reject contract, prepared to strike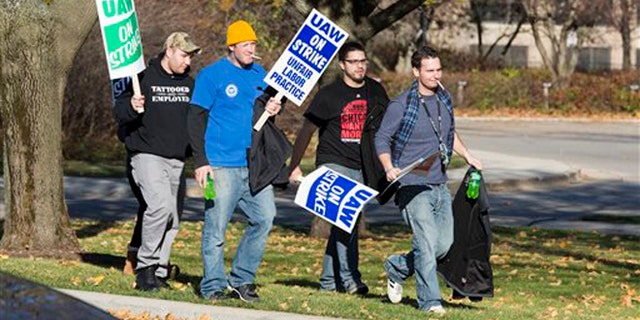 NEWYou can now listen to Fox News articles!
SHEBOYGAN, Wis. – Union workers at kitchen and bath equipment maker Kohler Co. rejected the company's latest contract offer Sunday and overwhelmingly approved a strike.
United Auto Workers Local 833 said paper balloting showed 94 percent of workers favor a strike, which would be the company's first since 1983, the Milwaukee Journal Sentinel reported.
Tim Tayloe, union president, said picketing would begin immediately and he hoped the company would return to the negotiating table.
About 1,800 workers attended Sunday's membership meeting at Sheboygan South High School. Workers have taken issue with what they call an inadequate pay increase, higher health care costs and the continuation of a two-tier wage scale that pays newer employees less.
Kohler, a 142-year-old company headed by a fourth-generation member of the family, had called for three raises of 50 cents each — about 2 percent a year — for most of its workforce. The offer raised health care costs but included a $1,200 bonus that the company said could cover the increase.
The company had called it the "last, best and final contract offer."
In a statement Sunday afternoon, company said it was disappointed with the union vote but indicated it has unspecified plans in place to continue production.
"A work stoppage like this will unfortunately cost our associates and can negatively influence our desire to grow jobs in this location," the company said of its Sheboygan County site.
The company said it hoped an agreement would be in place by Sunday and work would continue uninterrupted. It said its proposal was a fair offer and workers will receive their current wage and benefits if they report to work as normal.
Tayloe has called the two-tier system "a huge sticking point." Depending on whether company or union figures are used, lower-tier workers average roughly $12.50 to $13.50 an hour, but workers with more seniority average between $21.50 and $23.50 an hour.
A Kohler spokesman has said the company's proposal would have raised the average wage for lower-tier workers to above $17 an hour.
A strike could idle about 2,100 production employees at the plumbing-ware foundry in the Village of Kohler and at a generator plant near Sheboygan.