Killer of 2 wives in 2 states considered for parole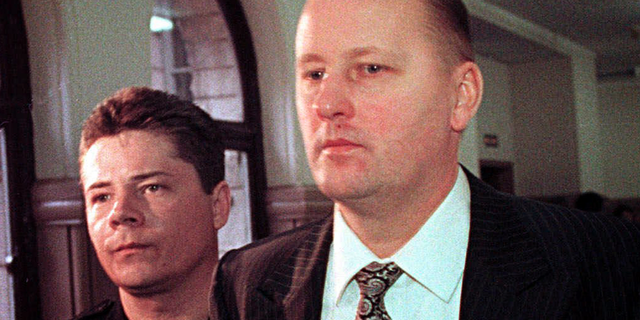 RALEIGH, N.C. – A killer who strangled two of his wives in two states could be released from a North Carolina prison, potentially cutting short his life sentence after more than 22 years.
North Carolina's parole commission said Wednesday it was collecting information ahead of a decision on whether to release Tim Boczkowski. He also faces a life sentence in Pennsylvania and North Carolina state prison officials said he would be sent there if he is paroled in North Carolina after a hearing which could come as early as next month.
The commission weighs when to release inmates whose crimes were committed before October 1994, after which parole was eliminated.
North Carolina inmates with life sentences who committed crimes under laws in effect when Boczkowski committed his slaying are eligible for parole after 20 years, said James Markham, a professor who focuses on criminal law at the University of North Carolina's School of Government.
Boczkowski, 63, was convicted of first-degree murder in 1996 for killing his first wife while the couple lived in Greensboro. Elaine Boczkowski was found dead in a bath tub in 1990.
He was charged in North Carolina only after being charged with murder for the 1994 death of his second wife in Ross, Pennsylvania. Maryann Boczkowski was discovered in a hot tub at their suburban Pittsburgh home.
Boczkowski was sentenced to death in 1999 for strangling Maryann, but that was thrown out by the Pennsylvania Supreme Court in 2004 because prosecutors violated a judge's order and allowed Boczkowski to be extradited to North Carolina. Prosecutors then used his North Carolina murder conviction to qualify him for the death penalty in Pennsylvania.
Boczkowski was resentenced in Pennsylvania to a second life sentence.
The North Carolina parole commission offered no details Wednesday about how long their examination would take or when a decision was possible. The commission annually reviews all offenders eligible for parole.
Boczkowski worked as a denture maker in Pittsburgh and ran a miniature golf course and ice cream shop in Greensboro with his first wife.
___
Follow Emery P. Dalesio on Twitter at http://twitter.com/emerydalesio. His work can be found at https://apnews.com/search/emery%20dalesio