Killed Federal Agent Was Getting Dad's Cancer Meds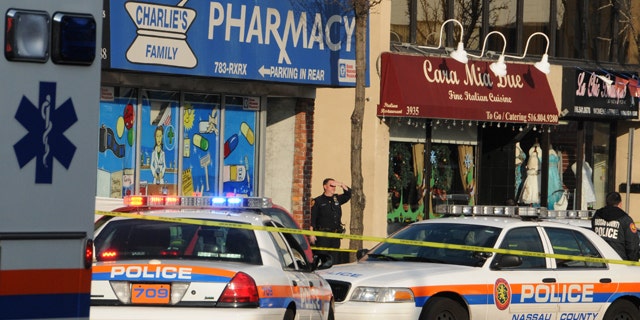 NEW YORK – An off-duty federal law enforcement agent who died while confronting a pharmacy robber was picking up his elderly father's cancer medication, a New York congressman said Sunday.
Veteran agent John Capano had chased down the suspect inside the store and was trying to subdue him on the ground when he died, said Rep. Peter King, R-N.Y. The robber, who was also shot to death, was identified Sunday by police as 43-year-old James McGoey of Hampton Bays.
"John was with him on the ground wrestling," said King, who has spoken with local authorities and Capano's family. "Next thing you know, shots are fired."
McGoey went into Charlie's Family Pharmacy in Seaford, a small shorefront Long Island town, at about 2 p.m. on New Year's Eve, police said. He announced a holdup and was given what he came for: painkillers and money.
Capano, a trained explosives expert who had served in Iraq and Afghanistan, confronted McGoey as he tried to leave the store. Meanwhile, an off-duty NYPD officer and a retired Nassau County police officer who happened to be at a deli next door were alerted that someone was trying to rob the pharmacy, King said.
"This is a horrible confluence of events," King said. "They both hear this guy saying there's a robbery going on. They get their guns, they go next door."
It's not clear who shot either man. Capano, 51, died of a gunshot wound at a hospital. He was a 23-year veteran of the Bureau of Alcohol, Tobacco, Firearms and Explosives who taught U.S. military and local forces in Afghanistan and Iraq how to investigate blasts, said Rory O'Connor, assistant special agent in charge in the ATF's New York office.
"He was a veteran agent who did his job well," O'Connor said. "Even though off-duty, he felt the need to take action in an attempt to protect the public."
Capano lived in nearby Massapequa and was married with two children. His father, Jimmy Capano, was a retired NYPD detective and the "unofficial mayor" of Merrick Road, the main thoroughfare in town and the street where his son was killed, King said.
"Everybody in Seaford knows the Capanos," said King, who has lived in the town for 40 years. "They're good, solid people."
On Saturday night, King spent half an hour with Jimmy Capano, who is 82 and was about to run out of his cancer medication.
"He was going to walk down to the pharmacy," King said. "And someone said, `Hey, John will pick them up for you."'
King did not know what type of cancer Jimmy Capano is being treated for, but said his wife, Helen, died of breast cancer two weeks ago.
During a visit to the crime scene Sunday morning, King saw the elder Capano again: standing in front of the pharmacy where his son died.
"He was standing at the front window with his hands in his pockets, staring," King said. "He's very tough and very emotional at the same time. He was obviously still trying to figure out what happened. As a cop, he was trying to go through the timeline."
The area has been struggling with a growing tide of prescription drug abuse, said Razov Felice, owner of an Italian restaurant down the street.
"There is a lot of problem in Long Island with these drugs," Felice said. "I don't know what people are thinking. The more people talk about these drugs, the more people are trying them."
A message left at McGoey's Hampton Bays home wasn't immediately returned Sunday.
Armed robberies at pharmacies in the U.S. rose 81 percent between 2006 and 2010, from 380 to 686, according to the U.S. Drug Enforcement Administration. On Father's Day, four people were gunned down by a drug addict during a pharmacy robbery about 30 miles west of the one in Seaford where Capano was killed.
His death is the latest in a string of shootings of off-duty officers in the New York area who were responding to a crime.
In May, a New York Police Department officer shot to death an off-duty colleague who was carrying a gun while chasing a suspected car thief in East Harlem.
In March, an off-duty transit authority officer shot a Nassau County police officer who was in plainclothes and carrying a rifle while both men were responding to a crime in the town of Massapequa Park.
And in 2008, Westchester County police officers killed an off-duty officer from suburban Mount Vernon while he intervened in a fight.