'Kill a cop, save a child' vandalism a 'hate crime,' North Carolina police chief says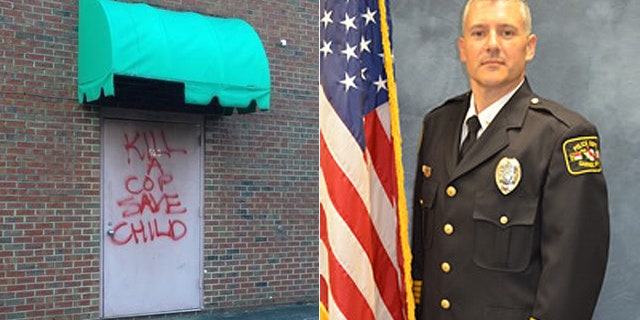 NEWYou can now listen to Fox News articles!
The vandal who scrawled a call for the murder of cops over a suburban North Carolina town's mural committed a hate crime, as far as the local police chief is concerned.
The words, "Kill a cop, save a child," were found early Friday spray-painted across a partially finished mural at the Garner Police Department's new building, which is currently under construction, Garner Police Chief Brandon Zuidema told FoxNews.com. A similar incident occurred three nights later on private property about a half mile from the police department.
"I believe this to be a hate crime," Zuidema said Tuesday. "It's a crime against a group of individuals, not based on something they've done, but based on who they are."
"This is one or perhaps two individuals – cowards – acting under the cloak of anonymity and leaving a hate message," he said. "It's targeting police officers."
"But it doesn't meet the definition of a hate crime in North Carolina," Zuidema noted. "Being a police officer is not included in that."
According to the FBI, a hate crime is "a traditional offense like murder, arson, or vandalism with an added element of bias." Congress has defined a hate crime as a "criminal offense against a person or property motivated in whole or in part by an offender's bias against a race, religion, disability, ethnic origin or sexual orientation."
North Carolina has a hate crime enhancement statute, but it only applies to misdemeanors. The state also has an "ethnic intimidation" statute, which criminalizes the attack of another based on race, color, religion, nationality, or country of origin.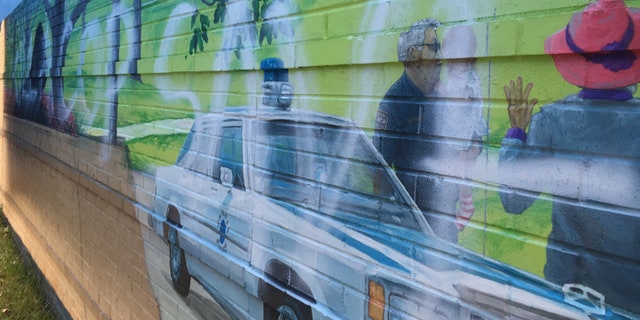 On the night of Oct. 15, vandals spray-painted the disturbing anti-cop message across a mural by artist Vincent Wood on an exterior wall at the police department's new building in Garner. The town had added lights and fences at the site of the new headquarters, but, because the building is not complete, surveillance cameras which might have caught the vandals are not yet installed, according to Zuidema.
Three days later, on Sunday night, the same words were scrawled in white spray paint on doors and walls in the 500 block of Village Court, not far from the new police headquarters.
Zuidema said his force is taking extra precautions following the incidents and urged the public to come forward with any tips, offering a reward of $5,000 for information leading to the arrest of the suspect or suspects. Zuidema said it's unclear whether the same suspects are to blame in both cases, noting Sunday night's vandalism "could be a copycat" incident.
"This is a legitimate threat," Zuidema said. "We've since had internal conversations urging our employees to be vigilant."
The residents of Garner, meanwhile, starting a crowd-funding campaign to fix the mural so the cost would not fall to taxpayers.
Wood spent more than 200 hours designing and painting the mural, which depicts Garner police officers from the past and present as well as "values and other symbolic gestures that have made Garner a great place to police and live in," according to the GoFundMe page devoted to repairing the mural.
Anyone with information on the crimes is urged to call investigators at 919-772-8810.