Kilauea one-month anniversary has residents on edge, seeking mental help
NEWYou can now listen to Fox News articles!
HAWAII – For the second time in four years, Doloryn Purfano is starting over. Except this time, the giddy anticipation of a new life on an island paradise has been replaced by bleak uncertainty and fear that her dream may be gone forever.
Purfano ditched her job in Washington state in 2014, sold her possessions and moved 2,500 miles southwest to Hawaii. Starting over on the Big Island had been her fantasy, and now she was living it.
When the ground shook and the earth under Purfano's adopted hometown ripped apart, as Kilauea spewed molten rock and fire, Purfano became one of thousands of residents displaced following the recent eruption of one of the most active volcanoes on the planet.
Since then, Purfano and her neighbors have been plunged into an apocalyptic horror, shacking up in shelters, putting up tarp tents in parking lots and sleeping in their cars as Kilauea continues its fiery eruption and wreaks havoc on their lives.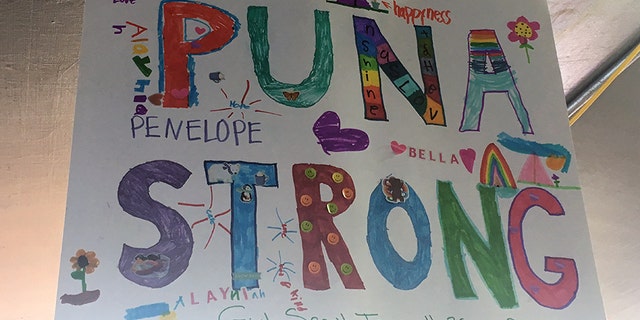 "I had to leave almost everything behind," she said, biting her periwinkle-painted fingernails outside a community help center in Pahoa.
She had managed to grab a black trashbag before she left her home near the Leilani Estates. She tossed in her favorite yellow sundress, a beat-up paperback copy of "The Maze Runner" and a couple of pictures of her friends.
"I don't know what to do now," she told one of the volunteers in almost a whisper before tearing up. "What do I do?"
The tension, fear and uncertainty of living near an evacuation area have taken its toll on the thousands rendered homeless since the recent eruption of Kilauea four weeks ago.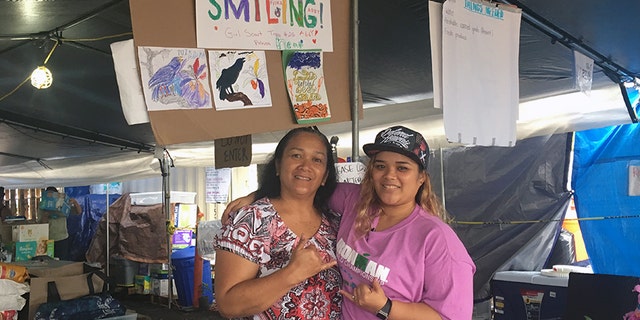 "People are at their breaking point," Keala Martins-Keliihoomalu, a 27-year-old full-time student at the University of Hawaii at Hilo who helped organize a community food and clothing drive, told Fox News.
"You see really old people sleeping on the ground and in tents," she said. "They have lost their homes, everything they have ever had. We give them a place to cry it out. They need to be spoken to like people and not barked at. Think of everything they have been through."
On May 3, Kilauea began shooting ash plumes 30,000 feet into the air. Thick waves of lava seeped from fissures in the ground, destroying homes, choking off escape routes and knocking out power before creeping its way toward the ocean. As it hit the blue waters of the Pacific, it created a dangerous steam laced with hydrochloric acid and fine glass.
Thick "vog" – volcanic smog created by vapor, sulfur dioxide gas and carbon dioxide - blanketed a 2,400-acre zone, and just this week, scientists at the U.S. Geological Survey warned of volcanic glass called "Pele's hair" falling from the sky.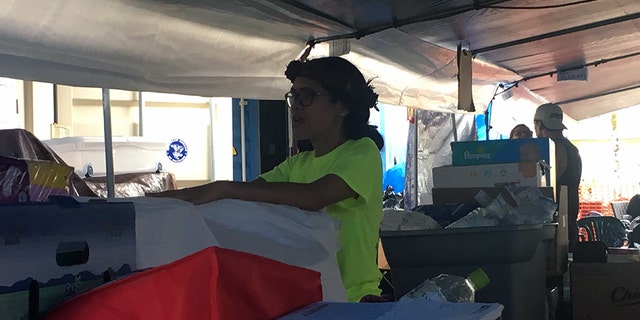 "We can't take it anymore," resident Caroline Walee told Fox. "This isn't a hurricane or tornado. Boom - it's over. Time for cleanup. This has been happening for four weeks and no one knows when it's going to end."
In the month that's passed, more than 87 homes have been destroyed, Hawaii Civil Defense spokesman Talmadge Mango said Friday. About 2,500 residents have been displaced.
"We are in ground zero on a daily basis," Lilinoe Kahalepauole, a volunteer at a community donation center, told Fox News.
Kahalepauole lives two subdivisions down from the epicenter of the crisis and says it's common to see people who are in "complete shock."
"A lot of people are ashamed to come here, so I say, 'Thank you,' and tell them I have been waiting for them," she said.
Kahalepauole's mother, Baylina, also deals daily with displaced residents who have been forced to sleep in their cars or outside as the uncertainty grows over when – or if - life will ever return to normal.
"There was a woman in tears and all she could say was, 'My place isn't there. It's gone. It's all gone. Everything I have worked for. All of it is gone,'" Baylina Kahalepauole told Fox News.
The shock, fear and grief stoked by Kilauea is playing out in very different ways on the island.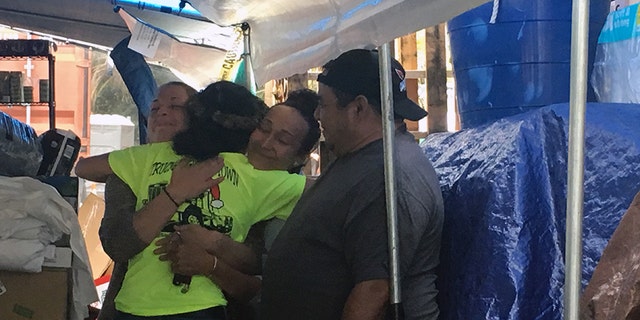 On Friday, a Leilani Estates man who was registered at the emergency shelter at Pahoa Community Center, hanged himself in a wooded area near the shelter.
A day earlier, police arrested a 55-year-old driver after he slammed through a checkpoint and crashed his car into a hardened lava flow.
In a separate incident, Leilani Estates resident John Hubbard opened fire on a fellow resident he thought was looting. Hubbard allegedly had approached the man and the group he was with, demanded they leave, assaulted one man and fired his gun.
"We're asking for a little compassion."
Hubbard was arrested and charged with five counts of first-degree terroristic threatening, two counts of first-degree reckless endangering, first-degree robbery, failing to register a firearm and more after he fired shots into the air.
One resident staying at the Red Cross shelter in Pahoa said she sleeps "with a knife – a big one.
"People here are going crazy," she said.
Red Cross spokeswoman Krislyn Yano told Fox News they have had more than 1,900 requests for mental health services at the three shelters on the island, with the majority being anxiety-related.
But it is tricky to help people who are exhausted, on a knife's edge and unsure what the future holds.
"It's an anomaly," Yano said. "Everything is so uncertain."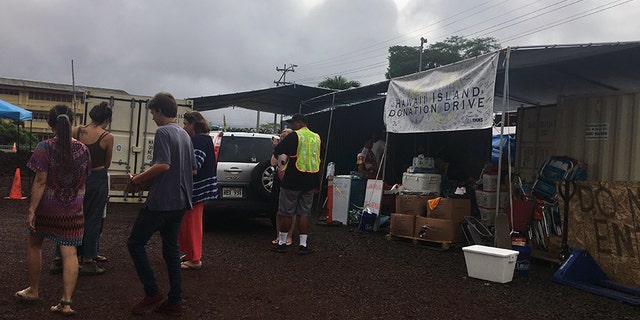 Residents have also been frustrated with the strict 6 p.m. curfews the county has put in place. Several shared stories about how they ran a few minutes over getting medicine or supplies from their homes and were told they must sleep in their cars.
"We're asking for a little compassion," Andy Andrews said at a recent community meeting. "A little understanding."
Alan Richmond, a spokesman for the Hawaii Police Department, says he's aware of the frustration mounting.
"We are seeing a lot of fatigued people and a lot of people who are upset," he told Fox News. "It's got to be devastating to walk away from your home and not be able to take anything. It's human nature that you would get frustrated and we understand that to a point. But the law is the law and you can't break the law."
Despite the stale state of daily life for residents affected by Kilauea, hope could soon be coming.
Hawaii County Mayor Harry Kim announced he would launch a rapid re-housing initiative similar to a resettlement effort that was used after a tsunami demolished parts of Hilo in 1960. Kim's spokeswoman Janet Snyder said authorities at the time developed a strategy called the Kaikoo Plan which would resettle residents in six months.