Kids rescued from ocean said 'Mom tried to killed us'; SC woman charged with attempted murder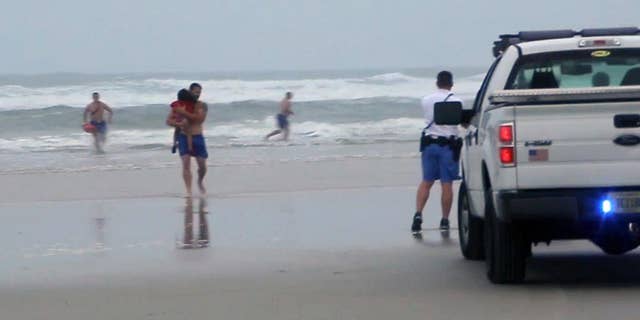 NEWYou can now listen to Fox News articles!
ORLANDO, Fla. – After she drove her minivan into the crashing waves of the Atlantic Ocean, authorities say a pregnant South Carolina woman tried to call off bystanders hustling to rescue her three screaming children from the water that was rushing in through the windows.
Ebony Wilkerson, who was charged with attempted murder Friday, said "everyone was OK" and left the van with her children inside, an affidavit said. The bystanders and beach safety officers, paying no mind to her urgings, pulled the two girls and a boy, ages 3, 9 and 10, through the windows Tuesday on Daytona Beach.
Later, Wilkerson denied trying to hurt her children, telling investigators she was driving too close to the water, "and the waves pulled her in," according to the charging affidavit.
Her children told investigators another story.
"Mom tried to kill us," they told detectives, according to a charging affidavit. "Mom is crazy."
Volusia County Sheriff Ben Johnson said the 32-year-old Wilkerson has been charged with three counts each of first-degree attempted murder and child abuse. She was in the custody of the sheriff's office after being hospitalized for a mental evaluation since dunking the van into the surf.
The children told authorities they had come to Florida from South Carolina only three days earlier to escape their father. They described a history of violence between their father and mother, and they said their mother had been "acting crazy and speaking to Jesus" since they had come to stay with Wilkerson's sister in Daytona Beach.
The sister, Jessica Harrell, didn't return a phone call from The Associated Press, but she expressed her concerns about Wilkerson's mental health to a 911 dispatcher only hours before the minivan ended up in the ocean.
The children said that while driving south on the beach, their mother pointed at the ocean, locked the doors, rolled up the electric windows and then jerked the steering wheel, sending the minivan into the waves.
One of the children asked her what she was doing, and she said: "'I am keeping us all safe,'" according to the affidavit. The boy tried to wrestle the steering wheel away from Wilkerson.
"She told them to close their eyes and go to sleep. She was trying to take them to a better place," Johnson said at a news conference.
A child also lowered the windows and the siblings yelled for help, attracting the bystanders.
"I've got to do this," Wilkerson told bystander Stacy Robinson as he attempted to intervene, according to the affidavit.
One of the rescuers, Tim Tesseneer, said Wilkerson's eyes were wide open and she looked "possessed." Wilkerson tried to prevent a beach safety officer from entering the vehicle to rescue the toddler who was the last to be removed from the minivan, Tesseneer told detectives. The children are with the Department of Children and Families.
Harrell told the dispatcher she had tried to take her sister to a hospital the previous day but Wilkerson had checked herself out. She said Wilkerson had been abused by her husband and that police should check on her.
"She's getting a little bit better, but she's still not all there," Harrell said.
Wilkerson was "talking about Jesus and how there are demons in my house and how I'm trying to control her but I'm trying to keep them safe," Harrell told the dispatcher.
Harrell said she had taken Wilkerson's car keys away but her sister had found another set and driven off with the children.
After the call to dispatch, Daytona Beach officers stopped Wilkerson's black Honda Odyssey and she expressed fear that her husband would be coming to Florida to harm her and her children.
The children were sitting quietly, smiling, and showed no signs of distress, the police report said.
"It was clear during my conversation that Wilkerson was suffering from some form of mental illness, but she was lucid and did not provide any signs that she met Baker Act requirements," the Daytona Beach police officer said in the report.
The Florida Mental Health Act, commonly known as the Baker Act, allows authorities to involuntarily take people into custody if they seem to be a threat to themselves.
___
Associated Press writer Tom Foreman Jr. in Charlotte, N.C., contributed to this report.