Kidnapped Alabama woman caught on video breaking free from captor's trunk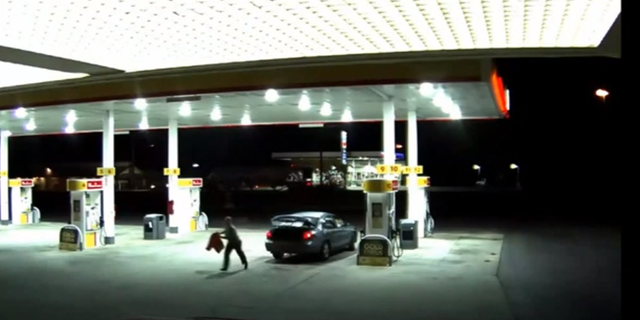 A woman in Alabama was caught on video escaping from the trunk of her kidnapper's car at a gas station on Monday.
The unnamed woman was reportedly abducted early Monday morning after a man, Timothy Wyatt, entered the victim's home and bedroom and started choking her, according to a post on the Chilton County Sheriff's Office Facebook page.
Wyatt reportedly demanded money as he continued to choke her. He then tied her up and forced her into his car, where he threatened to stab her throughout the drive.
WICHITA RESTAURANT BURNING BEING INVESTIGATED AS A HATE CRIME
The suspect later stopped the car in a remote area and forced the woman into the trunk before driving off again, the post said.
Wyatt eventually pulled into a gas station in Clanton and left the car unattended to go into the service store. It was then that the woman broke free.
In the video, the suspect can be seen walking away before the trunk pops open and the woman darts out, running towards the store and looking for help.
COLLEGE STUDENT PUT BODY FLUIDS ON ROOMMATE'S BELONGINGS, FACES HATE CRIME CHARGE: COPS
The video cuts to inside the store where you can see the woman bust in, catching the attention of Wyatt. He then sprints out the door towards his car, only closing the trunk before driving off.
Police in the area put out warrants for Wyatt's arrest and described him as "armed and extremely dangerous," according to the Facebook post.
He was picked up the following day after two deputies found him sleeping inside a building, WIAT reported. He was arrested for robbery, kidnapping and domestic violence.