Kentucky high school valedictorian trolls crowd quoting Trump but reveals it was Obama who said it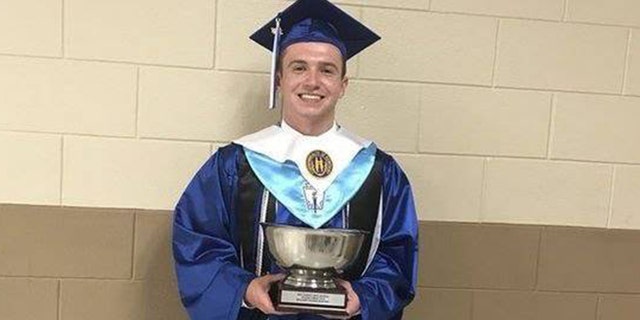 A Kentucky high school valedictorian was giving an inspirational speech to his graduation class on Saturday and decided to pull a trick out of his cap.
Ben Bowling, 18, the valedictorian of Bell County High School in Pineville, left the packed crowd with an inspirational quote he said was attributable to President Trump.
"'Don't just get involved. Fight for your seat at the table. Better yet, fight for a seat at the head of the table' – Donald J. Trump."
The crowd cheered and applauded the quote, but instantly fell silent when Bowling revealed who actually said the statement.
"Just kidding. That was Barack Obama," he said. The room quickly fell silent and a "boo" was heard.
"The crowd erupted in applause and before they could even finish clapping I said I was kidding and the applause quickly died," Bowling told the Louisville Courier-Journal.
MAN WOUNDED AFTER POLICE SAY HE FIRED AT KENTUCKY OFFICER
The quote Bowling gave to the audience was one Obama made during a commencement speech in 2012 at Barnard College.
Bowling said he "didn't mean anything bad" by trolling the crowd. He said he meant it to be funny.
"I just thought it was a really good quote," Bowling explained. "Most people wouldn't like it if I used it, so I thought I'd use Donald Trump's name. It is southeastern Kentucky after all."
The school, located in Bell County, overwhelmingly supported Trump in the 2016 election with nearly 80 percent voting for the commander in chief.
Despite the silence, Bowling said he has not received any backlash from the speech and some members of the audience found it funny.
"Y'all, no lie - the valedictorian just quoted Trump and everyone cheered ... then he told us that it was actually an Obama quote. Best part of the day. I'm rolling," Alisha Russell, a law student who attended the ceremony, tweeted.
'LARGE EXPLOSION' AT KENTUCKY UPS FACILITY LEAVES 2 WITH NON-LIFE THREATENING INJURIES, OFFICIALS SAY
Bowling said he will be attending the University of Kentucky in the fall and plans to study biology.
"I'm really excited to go to college," Bowling said. "There's more freedom in college and there's also way more places to eat in Lexington."