Kennedy cousin Michael Skakel denied parole in 1975 slaying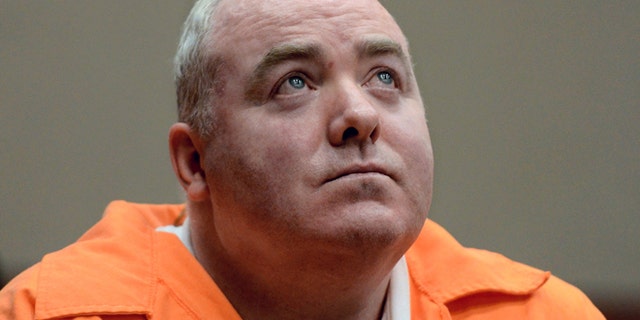 SUFFIELD, Conn. – Kennedy cousin Michael Skakel was denied a bid for freedom Wednesday at his first parole hearing since he was convicted a decade ago of killing his neighbor in 1975.
Skakel, who proclaimed his innocence at the hearing, nodded and patted his attorney on the back after the three-person parole board read the unanimous decision. He will next be eligible for parole in 2017.
Skakel is serving 20 years to life for fatally beating Martha Moxley with a golf club in Greenwich when they were 15. Skakel is a nephew of Ethel Kennedy, the widow of Robert F. Kennedy.
Skakel spoke slowly and softly at the hearing at McDougall-Walker Correctional Institution in Suffield, saying: "I did not commit this crime."
In attendance was Dorthy Moxley, the victim's mother, who said losing a child is the worst thing in the world and Skakel should serve at least 20 years in prison.
"Martha, my baby, will never have a life," she said, her voice breaking.
Skakel told the parole board he prays every day that whoever committed the crime is brought to justice, but he is the wrong man.
"If I could ease Mrs. Moxley's pain in any way, shape or form I would take responsibility all day long for this crime," Skakel said. But, he added, "I cannot bear false witness against myself."
The heavyset, 52-year-old Skakel with gray, thinning hair wore a tan prison jumpsuit to the hearing. To support his claims of innocence, he told of how he became sober.
"I pose to you: How can a guilty man stay sober for 30 years with that kind of guilt on his mind?" he said.
Skakel also talked about his mother's death at an early age, his learning disability and a childhood in which he attended numerous schools. He said his ex-wife was recently diagnosed with his cancer, and he is concerned about his 13-year-old son.
"I'm at your mercy. The only power I have is prayer," he said.
The chair of the parole board, Erika Tindill, showed some skepticism as she pressed Skakel with questions. She said it was an odd situation for him to ask for early release while proclaiming innocence of the crime.
Skakel, convicted in 2002, is eligible for parole consideration because of laws in place at the time of the crime including good behavior credits.
In letters to the parole board, Skakel's supporters, including his cousin Robert F. Kennedy Jr., say Skakel has helped alcoholics recover. They also portray him as religious and devoted to his son.
Many letters cite Skakel's art work in prison, saying he has made uplifting paintings that show his true nature, give joy to others and encourage family values.
Letters objecting to his parole cite the brutal nature of the crime and say releasing him early would be devastating to the victim's family.
"This person committed a heinous crime that gave many people a sentence of suffering that was irreversible," one of the letters states. "Why then should this person be given relief, when none is available for those who suffered the loss of a daughter, a sister, a dear friend.".